The Black Ice PDF X1 printer driver is the complete solution for businesses and developers needing a fast, reliable PDF conversion tool. The Black Ice PDF X1 printer driver gives users and developers flexible options to convert, save, email, print, archive or merge documents. The Black Ice PDF X1 printer driver is the fastest high-volume conversion utility, while still keeping an easy-to-use human interface for simple PDF conversion.
The Black Ice PDF X1 Printer Driver can create several barcode types on the printed documents. Every aspect of the printed barcodes can be configured such as Value, Barcode Standard, Position, Alignment, Size, Rotation and more.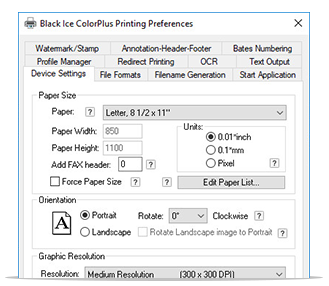 Windows 10, 8.1 and
Windows Server 2016, 2012 R2
Compatible



Key features:

PDF File Format Specific Features
PDF linearization for Fast Web Viewing
PDF/A for the digital preservation
Barcode Printing - Add Barcode to the printed documents
Printer Manager for easy configuration
Merge/Combine Multiple Documents into one Single File
Sharable printer driver
Email documents as attachment
Upload to FTP site with SSL
Upload to Web with HTTP and HTTPS
Annotation, Header and Footer on printed documents
OCR - Optical Character Recognition
Redirect printing to additional printers
SharePoint® support
Watermark - add a watermark to every generated file
MSI Installer available for large scale deployment
API for Developers

Supported Operating Systems

Windows 10 32/64 bit, Windows 8.1 32/64 bit, Windows 7 32/64 bit, Windows Vista 32/64 bit, Windows XP 32/64 bit
Windows Server 2016, Windows Server 2012 R2, Windows Server 2012, Windows Server 2008 R2, Windows Server 2008 32/64 bit, Windows Server 2003
Citrix XenApp, XenDesktop
The Black Ice PDF X1 printer driver, combined with the Resource Tool Kit – Application Programming Interface (API), offers developers and Original Equipment Manufacturers (OEM's) the capability to integrate, customize, or build advanced document management systems. The Resource Tool Kit – API is a collection of utilities and sample source codes for sophisticated developers to build state-of-the-art business solutions.