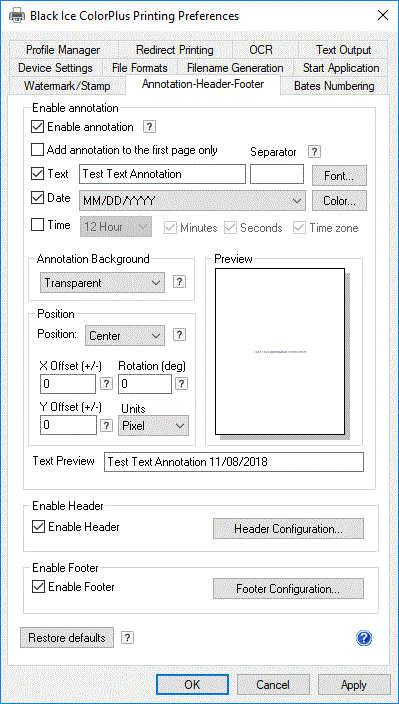 The Black Ice printer driver supports adding Annotations, Headers and Footers to the printed documents.
It is possible to define a custom annotation text that will be placed on every printed page. The annotation text can also contain the current date and/or the time. The date and the time information will be automatically updated by the printer driver at printing time.
The Embedded Annotation option supports several formatting options for the format of the date and time. Also the position of the annotation text on the page, and the font used to print the annotation can be fully customized.
The Black Ice printer drivers can also add user specific annotations such as the printing user name, computer name, IP Address, etc. which can be specified using predefined fields and environment variables.
Header and Footer
Black Ice Printer Drivers can add Header and Footer on the printed document to provide important background information and to make your document look more professional.

The Header and Footer feature provide flexibility for better document management by adding User or Document specific information to the printed document such as User name, print date and time.