Simplifying Windows 10, 8, 7, Vista and XP Pro RDP printing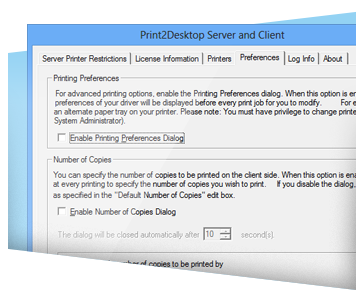 Windows 10, 8, 7, Vista and XP Pro (or above) users can take advantage of Microsoft's Remote Desktop Protocol and Remotely log into their machines from other Windows 10, 8, 7, Vista and XP Pro (or above) computers or Windows machines with the Remote Desktop software installed. This is great for the occasional telecommuter who needs to access their desktop at the office or remotely accessing the home PC.
However, the Windows Remote Desktop Protocol doesn't work with many of the consumer printers on the market and some virtual printer drivers. Print2Desktop makes mapping these drivers easy. Just install the Print2Desktop Server component on the machine you are logging into, and the Print2Desktop Client component on the machine you are Remoting from and select the printers you want to map, the next Remote Desktop session you initiate your printers will appear on the remote computer.
Terminal Server RDP Printing? If you are Remoting into Windows 2012/2008 R2/2008/2003 use Print2RDP to solve your RDP Printing problems! Click here for more info!
Print2Desktop dynamically configures itself to present the user with a seamless printing solution allowing them to print any file from an RDP session directly to their local or network PC. Print2Desktop is compatible with any available windows printer driver, including USB printers, network printers and even virtual printer drivers used in fax and document imaging applications.
| | |
| --- | --- |
| Key Features | |
| "Raster based printing" feature | |
| Enhanced auto-disconnect/default printer controls | |
| Windows 10 compatible | |
| Full access to Client Printer Options | |
| Automatic Bandwidth Optimization | |
| Configuration Free, Install and forget | |
| Fast printing | |
---
How does it work?
Print2Desktop automatically creates a virtual printer driver for each client printer to be mapped on the remote PC. The virtual printer drivers appear as available printers and will be easily identifiable to the printing user.
RDP users can print to the virtual printer drivers as they would print to any printer from any Windows application. Print2Desktop will then compact and transmit the data to the client's local printer for printing. The data transmitted by Print2Desktop is typically much smaller than the actual file being printed and will still have the same print quality and color as the original document.
Any number of printers can be automatically connected to each terminal server client session. This can optionally be restricted by the system administrator to be only the default client printer or a maximum number of client printers.
Print2Desktop is supported on the following platforms:
Client:

Windows 10 (32 and 64 bit)
Windows 8 (32 and 64 bit)
Windows 7 (32 and 64 bit)
Windows Vista (32 and 64 bit)
Windows XP (32 and 64 bit)
Windows 2000 Professional
Windows Small Business Server 2011 RWA

Server:

Windows 10 (32 and 64 bit)
Windows 8 (32 and 64 bit)
Windows 7 (32 and 64 bit)
Windows Vista (32 and 64 bit)
Windows XP (32 and 64 bit)
Windows 2000 Professional
Windows Small Business Server 2011 RWA