TIFF Viewer & Browser Plug-In
Version number:
The Tiff Viewer Web Plug-in allows users to view any TIFF image on the internet, and is compatible with MS IE, Firefox, and Google Chrome. Black Ice Software's Free TIFF Viewer application can be downloaded using the links above. Users can purchase the complete Tiff Viewer & Plug-in for Browsers directly from Black Ice Software Order multiple copies or a site license at a discount, visit the Black Ice Online Store for details.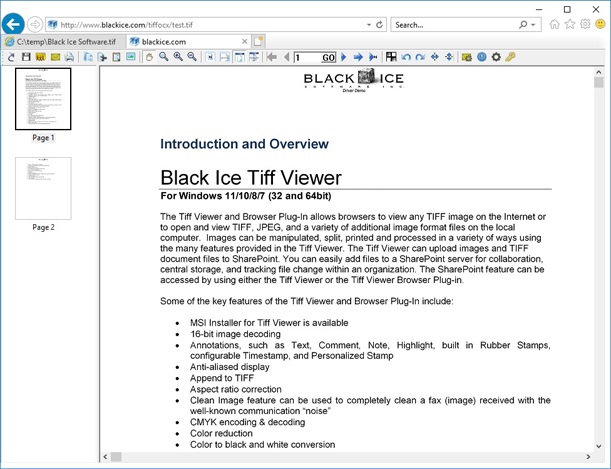 View, Print, Save and Email TIFF files right from your web browser
The Tiff Viewer Browser Plug-in automatically installs for Internet Explorer and activates when an image is loaded in your browser. Firefox and Google Chrome users first need to install the free IE tabs plug-in before the Tiff Viewer Browser Plug-in will work with Firefox or Google Chrome.
How to setup the Tiff Viewer Browser Plug-in for Firefox
How to setup the Tiff Viewer Browser Plug-in for Google Chrome
The TIFF Viewer and Browser Plug-In is ideal for viewing, editing and printing TIFF and a variety of additional image types. The TIFF Viewer is commonly used for editing and cleaning faxes, browsing the USPTO website, processing and printing digital photos, and much more.
The Black Ice TIFF Viewer includes both a web browser plug-in and a standalone TIFF/Image Viewer.
Why use the TIFF Viewer Web Browser Plug-In?
Create an archive of important articles.
Easy method for creating and posting documents for the Internet.
Thumbnail Browser for easy navigation between the pages.

Make electronic copies of your documents, letters, notes, etc.
Save or retrieve tiff document files from SharePoint® server
Send documents in email
MODI replacement for Windows 7 and Windows 2008 server
Review online patents, blue prints, faxes and more.
Install the TIFF viewer and try it out for yourself. Click here for a sample TIFF File which can be viewed using the Black Ice TIFF Viewer Web Browser Plug-In
Tiff Viewer supports the following platforms:
Windows 10
Windows 8.1
Windows 8
Windows 7
Windows Vista
Windows XP
Windows 2000 Professional
Windows Server 2016
Windows Server 2012 R2
Windows Server 2012
Windows Server 2008/R2
Windows Server 2003
Citrix XenApp (Citrix Presentation Server), XenDesktop
VMware Horizon + ThinApp, VMware VCenter
Microsoft RemoteApp, Microsoft Hyper-V, Hyper-V VDI
Browser Plug-in requires Microsoft Internet Explorer, Firefox, or Google Chrome.
Looking to develop an Image Viewer or add Imaging capabilities to a web site? Click here for details on our imaging toolkits