For Immediate Release
Further Information: Amanda Dresser
Black Ice Software LLC. 561-757-4107
Sales@blackice.com
PRESS RELEASE
Black Ice Software Releases Version 4.88 of Print2RDP
Administrators no longer have to mount and maintain client printer drivers or configurations.
Nashua, NH, July 20, 2009 -- Black Ice Software, a leading supplier of printing, imaging and image conversion solutions, is pleased to announce the immediate availability of Print2RDP (Remote Desktop Printing) for Windows 2000, 2003, 2008 and Citrix servers. The new version was developed to offer users more features and improvements.
"This new version of our Print2RDP application greatly improves the user experience because it contains a simplified installation and configuration process. With this new version, Black Ice Software continues a long-lasting effort to keep the Print2RDP the best product on the market for RDP printing," said CEO, Jozsef Nemeth.
Version 4.88 of Print2RDP contains the following new features: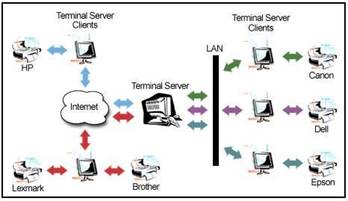 Figure 1. Diagram that shows how Print2RDP works
New user interface of the Print2RDP server
Improved server 2008 support
New connection information to the 'About box' of the Print2RDPclient
New Vista client support
'Raster-based printing' is a new feature that flattens a document into a single layer while maintaining the formatting and special fonts from unique applications. Print2RDP 4.88 also contains several fixes for common Windows Server 2008 issues, including correctly setting a default printer, remapping printers after an auto-disconnect, and better releasing and reactivating of concurrent licenses
Availability and Pricing
Print2RDP is currently available and can be purchased by calling 561-757-4107 (domestic) or 001-561-757-4107 (for international callers).
To learn more about how Print2RDP works, visit the website at http://www.blackice.com/Print2RDP.htm
About Black Ice Software, LLC
Black Ice Software, headquartered in Amherst, NH, is a leading privately-held software development company that was established in 1989. Black Ice Software develops high-quality development toolkits for printer driver technology, fax, voice, imaging development toolkits and applications used across the globe by e-commerce organizations, system integrators, VARS, and financial corporations. For more information, visit the corporate website at www.BlackIce.com
Black Ice Software and Print2RDP are trademarks and/or registered trademarks of Black Ice Software. The names of and reference to other companies and products mentioned herein may be the trademarks of their respective owners