The Cover Page Filler is a Printer Driver feature to fill cover pages, and to insert a cover page to the beginning of the printed document. Fast, easy-to-use, compact solution for businesses that are dealing with a large amount of faxes, medical forms, governmental forms, and financial forms.
Cover Page Filler comes with dozens of built-in forms ready for use, which can be selected during the installation of the Printer Driver. Some of the forms available are standard Fax forms, W9, American Dental Association form, CMS-1500 (2-12) for professional claims (doctors, etc.). To create additional forms, please see the Black Ice Form Designer.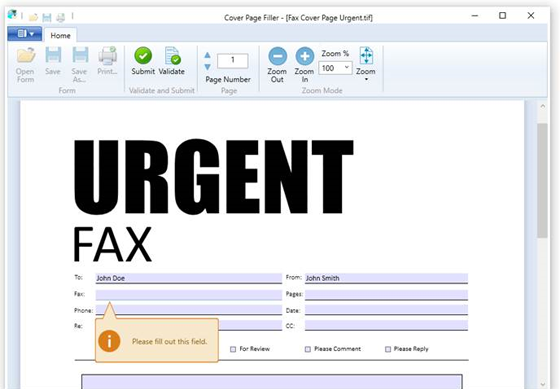 Key benefits of using Cover Page Filler:
QR, DataMatrix, PDF417 and 1D Barcodes to display a specific value or field value(s)
Fill out cover pages easily
Validate different types of fields with built in validation for different controls
Submit filled cover pages
Built-in cover pages ready for use
Zooming, Fit to Window and Fit to Width options
Convert the cover page with document to any of the selected file format TIFF, PDF, JPEG, etc…
All the post printing features will work with the cover page
To read more about adding cover pages, please refer to the Add Cover Page to documents webpage.
The "Add Cover Page" feature of the Printer Driver is available in the following products: