Black Ice Print2Email offer a user-friendly way to merge / combine multiple print jobs or documents into a multipage PDF or TIFF file. User can easily manage every aspect of the merging on the Merge Documents window.
The Merge Documents window is a new technology allowing users to easily select which documents need to be merged.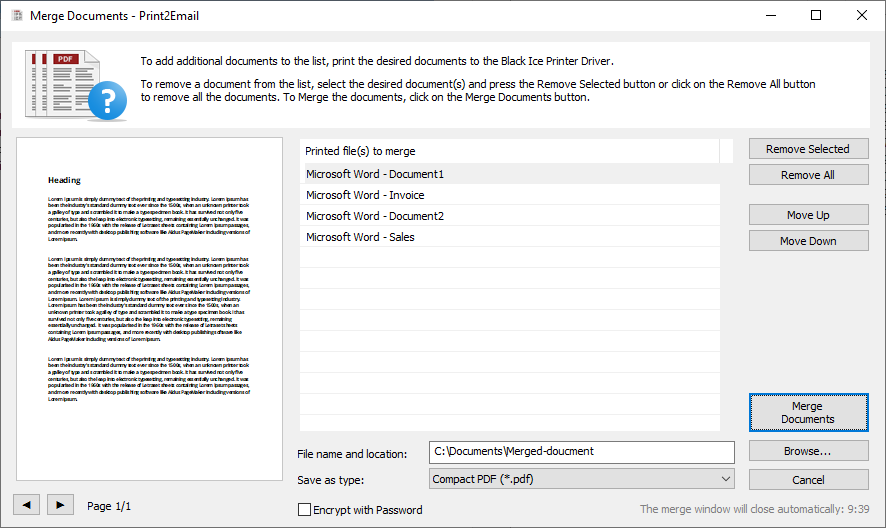 NOTE: If the Combine/Merge… functionality is disabled and the Exact filename method is selected for filename generation, the files that exist in the output directory are overwritten.
The Black Ice Print2Email offers to merge documents in silent mode.
To Enable "Merge documents using Merge Documents window"
Go to Control Panel -> Devices and Printers -> select the Print2Email printer driver, right click on the Print2Email printer driver and select Printing Preferences.
Select the Filename Generation tab and check the Combine/Merge multiple document into a single file option and select the Merge documents using Merge Documents window option.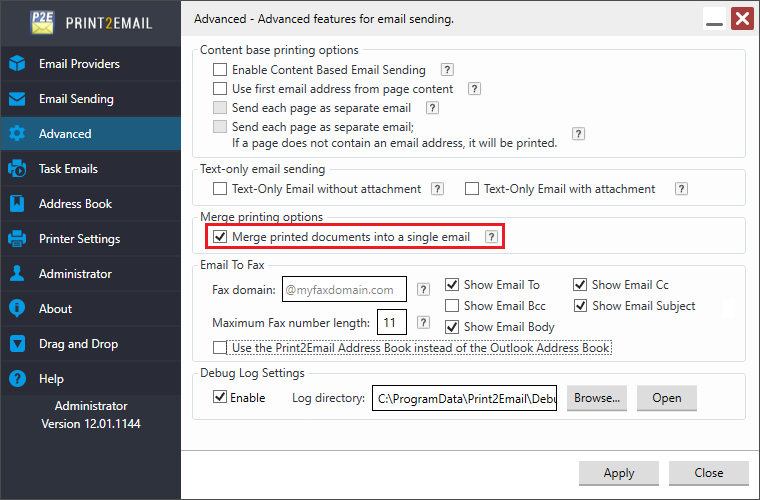 From now, when printing to the Black Ice Print2Email, the Merge Documents Save As window comes up and stays open, listing the printed documents.
On the Merge Documents Save As window, one can merge the listed documents by clicking on the Merge Documents button.
File name and location must be the location and the file name of the generated merged document, without the extension. The Printer Driver automatically selects the extension (such as .PDF) based on the selected Save as type. To select the path, one can use the Browse button.
Save as type must be the output file format.
By using the Remove selected and Remove All buttons, one can remove documents from the list to exclude the files from the merging.
NOTE: If the PDF file is password-protected, merging will fail.
NOTE: The Drag & Drop feature does not support the Merge Documents window.