Black Ice Software - July 26, 2016
Print2Email version 10.02 is released!
New Task Emails feature to create predefined email configurations for frequently used email addresses!
Black Ice Software has released version 10.02 of the Print2Email. The new version of Print2Email includes new Task Emails feature, allowing the creation of new printers with predefined email settings.
By using the Task Emails the user can create separate printers with pre-defined emails for routine tasks without having to repeat email configuration steps each time. The user can create as many Task Emails as necessary.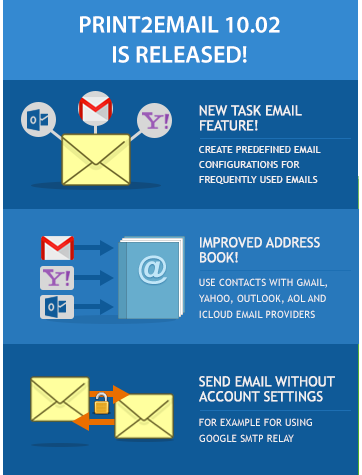 Print2Email 10.02 includes "Send email without account settings" feature for SMTP and Exchange mail servers, allowing the usage of Google's SMTP relay with Print2Email, and also includes significant improvements for printing PDF documents.
The latest Print2Email includes improved usability of the imported email contacts with Gmail, Yahoo, Outlook.com, AOL and iCloud email providers.
The complete list of improvements in the latest Print2Email include the following:
Updated Auto-print to version 14.67.359
Stability improvement for printing certain PDF documents generated by Ghostscript
Stability improvement for detecting corrupted PDF files
Stability improvement for detecting password protection in some PDF files
Updated Printer Driver to version 14.68.1515
Stability improvement for using the "Overwrite the existing file" and "Rename the new file" text output options with custom file naming.
Updated PDF Dlls to version 2.7.6.654
Fix for certain bitmap fonts
Stability improvement for certain applications that do not set the font during printing
Added the Task email feature that allows setting up multiple email accounts
Added the "Send email without account settings" feature for SMTP and Exchange mail servers
Added Address book buttons for Gmail, Yahoo, iCloud, Outlook.com, Aol. and Exchange email providers
Stability improvement for the Address book feature for systems where a previously installed Outlook was uninstalled
Stability improvement for the Exchange email provider when used with the "Ask me every time for an email provider" option in Email Settings
Updated manuals
Free Upgrades and Priority Support
Do not forget to subscribe to future releases by purchasing maintenance. With an active maintenance subscription, you will receive all new releases for free! Priority email technical support is also included in your subscription. For more information, call us at +1 (561)-757-4107 Extension 3, or impactsales@blackice.com.

As a special offer, if your maintenance subscription has expired or you did not include the maintenance subscription in your original purchase, simply refer to this newsletter to renew or add maintenance retroactively!