Black Ice Software - June 28, 2016
Print2Email version 10.00 is released!
New completely rewritten Print2Email with dozens of new features!
Black Ice Software has released version 10.00 of the Print2Email. The new version of Print2Email is completely rewritten and includes dozens of new features to make email sending and document conversion simpler and faster.
The New Address Book feature with Gmail, Yahoo, Outlook Live integration includes a new option to import contacts easily from a CSV (comma separated values) file.
New transferable licenses, allowing Administrators to easily move the already registered Print2Email to a new computer, or to register the Print2Email with a different serial number without uninstalling the product.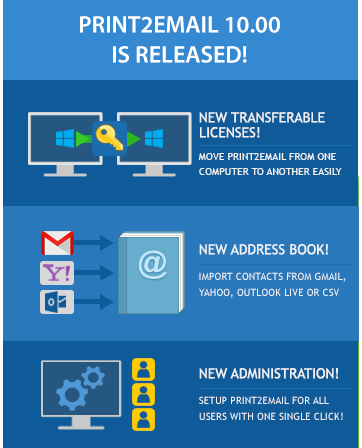 New improvements for Administrators to configure the Print2Email settings for All Users on the computer with one single click! This new feature could highly reduce the time of Print2Email configuration on systems with a large number of users.
Print2Email 10.00 includes further stability improvements for sending emails with Print2Email using Outlook, and also includes minor improvements on the user interface to enhance user's experience.
The complete list of improvements in the latest Print2Email include the following:
Completely rewritten Print2Email.
Change of licensing for Windows Server. No more User licensing. Single license for a servers, with unlimited users on a server.
Added feature to import contacts from Gmail, Yahoo, Live mail
Added feature to import contacts from Outlook and custom csv file
Added feature to disable Outlook security popup window
Added auto-complete feature when entering recipient's email address
Added feature to preview the printed file before sending in email
Added feature to save the Print2Email settings for All users
Updated Printer Driver to version 14.67.1503
Updated Drag and Drop printing with the Black Ice Auto-print to version 14.65.358
Added Microsoft Visio file support
Added FAX, JPEG, PNG, BMP, GIF XPS, EMF file support
Added DICOM Image file support
Added AutoCAD file support
Added Email files (MSG, EML) support
Updated eLicense.dll to version 5.02.171
Updated PDF DLLs to version 2.7.4.650
Added transferable licensing
Upgraded the Printer Driver MSI installers from .NET Framework version 2.0 to 4.0
Added Print2Email MSI installer for Windows Servers.
Removed the Office add-in
Removed BILM
Free Upgrades and Priority Support
Do not forget to subscribe to future releases by purchasing maintenance. With an active maintenance subscription, you will receive all new releases for free! Priority email technical support is also included in your subscription. For more information, call us at +1 (561)-757-4107 Extension 3, or impactsales@blackice.com.

As a special offer, if your maintenance subscription has expired or you did not include the maintenance subscription in your original purchase, simply refer to this newsletter to renew or add maintenance retroactively!