Black Ice Software - Happy Holidays from Black Ice Software | ONCE A YEAR OPPORTUNITY! ONLY 13 DAYS LEFT!
You're receiving this newsletter because you signed up at BLACKICE.COM
Having trouble reading this email? View it in your browser. Not interested anymore? Click Here.



ONCE A YEAR OPPORTUNITY! ONLY 13 DAYS LEFT!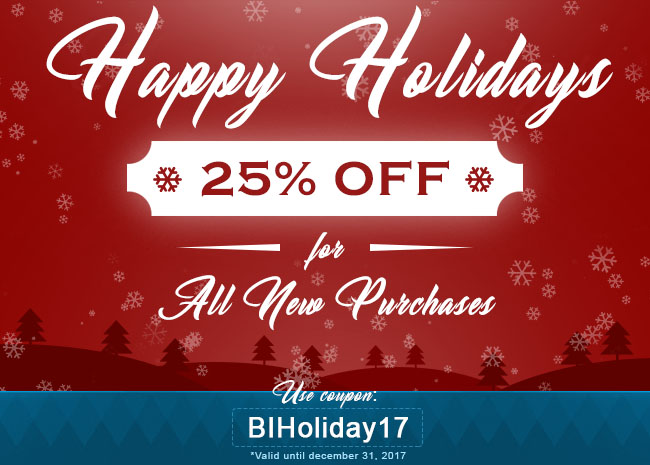 Time is running out fast! You only have 13 days left to take advantage of our Annual Holiday Discount of 25% off all new purchases for all of our products! This applies to the Document Converter Printer Drivers, Document Converter Server, TIFF Viewer, BiBatchConverter, Print2RDP, Auto-print SDK and many more throughout the entire month of December.
This Special Holiday offer will only be available until December 31, 2017. Be sure not to miss out on this limited time offer! The discount applies to new purchases only.
Visit the Development Tool Store for Document Converter Printer Drivers and Development tools.


Visit the Impact Product Store for the Tiff Viewer, Document Converter Server, BiBatchConverter, Print2RDP, Print2Email, and Fax products.
Take advantage of this valuable offer now by entering the coupon code BIHoliday17 during checkout or contact our sales office at sales@blackice.com.
Free Upgrades and Priority Support
Do not forget to subscribe to future releases by purchasing maintenance. With an active maintenance subscription, you will receive all new releases for free! Priority email technical support is also included in your subscription. For more information, call us at +1 (561)-757-4107 Extension 3, or sales@blackice.com.
As a special offer, if your maintenance subscription has expired or you did not include the maintenance subscription in your original purchase, simply refer to this newsletter to renew or add maintenance retroactively!
*Only valid for new purchases, no upgrades or add-ons. This offer cannot be combined with any other discounts.


Black Ice Software, LLC | 950 Peninsula Corp Circle Suite 2017, Boca Raton, FL 33487 USA
www.blackice.com Telephone: 1(561)-757-4107