Black Ice Software - December 14, 2016
Print2Email version 10.08 is released!
Stability improvements for Content Based Email Sending and more!
Black Ice Software has released version 10.08 of the Print2Email. This version includes stability improvements when printing certain documents with Content Based Email Sending, including PDF files generated by Microsoft Word and Web pages.
The improved Content Based Email Sending can be used to extract specific information (For example: email subject and recipients) from the printed PDF document or Web Page and send the email based on the extracted information without any user interaction. This can save employees valuable time when attempting to send documents.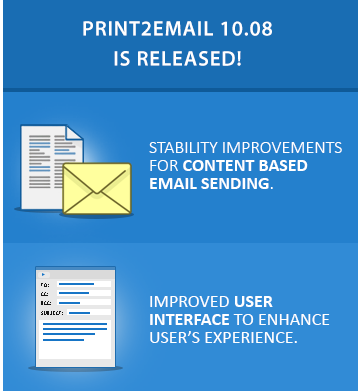 The latest Print2Email also includes user interface improvements to enhance the user's experience, along with stability improvements when importing contacts from a Yahoo Address Book.
The complete list of improvements in the latest Print2Email include the following:
Minor user interface improvements for Email Settings and Email sending client
Minor user interface improvements on the SMTP settings of the Print2Email Installer
Stability improvement when importing contacts from Yahoo Address Book
Updated manuals
Updated Printer Driver
Stability improvement for Content Based Email Sending when printing certain documents, including PDF files and Web pages
Added filename generation option: "Use the Document Name with the Output Directory from an INI file"
Added an option to Custom file naming to read the Output Directory from an INI file
The printer driver now generates an empty txt file for text output even if the printed page contains no text
Stability improvement for registration on certain systems
Stability improvement for uninstallation after certain manual registrations
Free Upgrades and Priority Support
Do not forget to subscribe to future releases by purchasing maintenance. With an active maintenance subscription, you will receive all new releases for free with your subscription! Priority email technical support is also included in your subscription. For more information, call us at +1 (561) 757-4107 Extension 2, or impactsales@blackice.com.

As a special offer, if your Maintenance Subscription has expired or you did not include the Maintenance Subscription in your original purchase, simply refer to this newsletter to renew or add Maintenance retroactively!