Black Ice Software - Try Black Ice Software's HTML5 IceViewer!
You're receiving this newsletter because you signed up at BLACKICE.COM
Having trouble reading this email? View it in your browser. Not interested anymore? Click Here.



Try Black Ice Software's HTML5 IceViewer!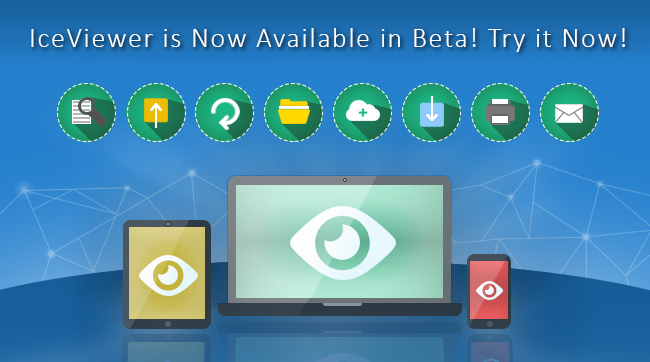 Black Ice Software has released the IceViewer HTML5 Document Viewer, allowing users to open and edit TIFF documents in any browser, without having to install ANY application on the end users computer, tablet, or smartphone!
In the IceViewer HTML5 Document Viewer, users can view, edit, OCR, download, print, email or share their documents by using any standard browser.
What are the key benefits of using IceViewer?
Can be accessed and used from desktop computers, tablets, or smartphones, all you need is a supported internet browser.
Supports TIFF documents, which is the most commonly used file format for Medical records, Faxes, Social Security, Disability records and Legal documents.
Has built-in document management system capabilities, allowing users to edit, upload, or open documents uploaded by other colleagues.
Is HIPAA compliant for medical documents, meaning IceViewer has the capability to store every document in a secure database on a server, and transmit the document to the user without having to store anything on the local PC's hard-drive.
Built-In Administrative Panel for Site Owners
To customize the IceViewer, Site Owners no longer need to edit complicated configuration files! Under the hood, IceViewer has a complete Administration panel, where Administrators and Site Owners can configure the User Interface, Shared Folders, Users, Email Sending, Database and more!
Application Programming Interface For Developers
IceViewer comes with a sophisticated API as well. This allows developers to interact with the application without having to open a web browser on the computer. The dozens of built-in APIs can be used for several occasions, including the following: Authentication, Document Viewing, Editing, Sharing and more.
Annotations to easily comment and mark up documents
What are annotations? Annotations are objects that are graphically displayed on the document. Annotations add additional information to the document or emphasizes or redacts a specific part of the document. IceViewer includes the following annotations: Text, Comment, Note, Highlight, Redact, Rectangle, Rounded Rectangle, Ellipse, Line, Arrow, Stamp, Rubber Stamp, Timestamp and Signature.
Free Upgrades and Priority Support
Do not forget to subscribe to future releases by purchasing maintenance. With an active maintenance subscription, you will receive all new releases for free! Priority email technical support is also included in your subscription. For more information, call us at +1 (561)-757-4107 Extension 3, or sales@blackice.com.
As a special offer, if your maintenance subscription has expired or you did not include the maintenance subscription in your original purchase, simply refer to this newsletter to renew or add maintenance retroactively!
For license information, please visit our Customer License Management Portal.
*Only valid for new purchases, no upgrades or add-ons. This offer cannot be combined with any other discounts.


Black Ice Software, LLC | 950 Peninsula Corp Circle Suite 2017, Boca Raton, FL 33487 USA
www.blackice.com Telephone: 1(561)-757-4107