Black Ice Software - December 8, 2015
Tiff Viewer version 11.37 is released!
Drag and Drop page moving, improved thumbnail navigation, file navigation and more!
Black Ice Software has released version 11.37 of the Tiff Viewer. This version includes greatly improved thumbnail page ordering by moving the pages in the thumbnail view up and down in the document by simply drag and drop just like in MODI.
The Tiff Viewer version 11.37 includes improvements for navigating between pages with a keyboard, and also includes improvements for navigating between documents in the current directory.
New features help users to move pages and navigate between documents more efficiently with a minimum number of clicks in a much easier way, to enhance the user's experience.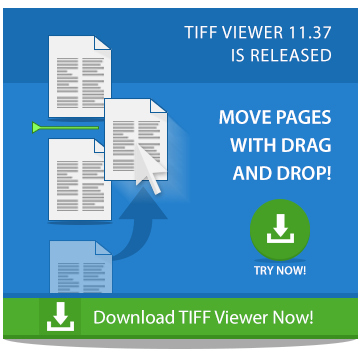 Version 11.37 of the Tiff Viewer includes minor text changes, and improvements for the right-click context menus the highlight annotations.
The complete list of improvements in the latest Tiff Viewer include the following:
Added drag and drop page moving feature
Handling navigation and selection by keyboard in the thumbnail view
Improved Next Image and Previous Image handling
Highlight annotation default color changed to yellow
Removed Hyperlink property from annotation objects
Minor text changes on the annotation right-click menus and dialogs
Updated BiAnno.dll and BiAnnoDlg.dll to version 12.56.519
Free Upgrades and Priority Support
Do not forget to subscribe to future releases by purchasing maintenance. With an active maintenance subscription, you will receive all new releases for free with your subscription! Priority email technical support is also included in your subscription. For more information, call us at +1 (561) 757-4107 Extension 2, or impactsales@blackice.com.

As a special offer, if your Maintenance Subscription has expired or you did not include the Maintenance Subscription in your original purchase, simply refer to this newsletter to renew or add Maintenance retroactively!