Black Ice Software - November 29, 2016
Print2Email version 10.07 is released!
Share contacts on the computer for all users with the addition of the Global Address Book!
Black Ice Software has released version 10.07 of the Print2Email. This version allows Administrators to share their contacts for All Users on the computer, with the new Global Address Book feature.
The latest release of Print2Email version 10.07 also includes a Personal Address Book. The Person Address Book allows each user to create or download their personal/private contacts from Gmail, Yahoo, and Outlook into the address book without allowing other users to see the saved contacts.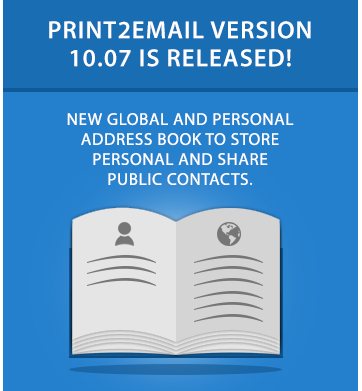 The new Address Book improvements result in more efficient use of the email sending capabilities in Print2Email, with more options to store and share personal/private and public contacts on the computer.
The latest Print2Email also includes stability improvements, such as printing documents with unicode names, registering the Print2Email if the demo period is expired and more!
The complete list of improvements in the latest Print2Email include the following:
Added the Global Address Book feature
Added the CUSTOMINI parameter to customize printer settings in the MSI installer
Stability improvement for using Ask me every time for an email provider feature
Minor user interface improvements
Stability improvement for using Print2Email with Guest user
Updated PDF Dlls to version 2.8.1.667
Updated Printer Driver to version 14.74.1568
Stability improvement for registration with some VPN virtual network
Added support of Unicode characters for the Drag and Drop window
Stability improvement for printing documents with unicode names
Stability improvement for Print2Email installation if the demo period is expired
Stability Improvement for opening the Print2Email, if the User Interface was minimized
Stability Improvement for printing empty txt file
Stability Improvement for using the PostBox email client
Updated manuals
Free Upgrades and Priority Support
Do not forget to subscribe to future releases by purchasing maintenance. With an active maintenance subscription, you will receive all new releases for free with your subscription! Priority email technical support is also included in your subscription. For more information, call us at +1 (561) 757-4107 Extension 2, or impactsales@blackice.com.

As a special offer, if your Maintenance Subscription has expired or you did not include the Maintenance Subscription in your original purchase, simply refer to this newsletter to renew or add Maintenance retroactively!