Black Ice Software - December 3, 2014
Print2Email version 9.30 is released!
Content Base Email Sending - Send emails based on the printed document's content
Black Ice Software has released Print2Email version 9.30 which includes new Content Based Email Sending features to extract specific information from the printed documents, (for example: email subject) and Print2Email will send the email based on the extracted information.
Content Based Email Sending allows individuals and businesses to fully automate email sending based on the document content to recipients with custom subjects and email body. Click on Content Base Email Sending.
In version 9.30 the following parameters of email sending can be specified with the Content Based Email Sending Features; Recipient(s), Carbon Copy (CC), Blind Carbon Copy (BCC), Email Subject, Email Body, and Password protection for the attached PDF document to open or edit the PDF.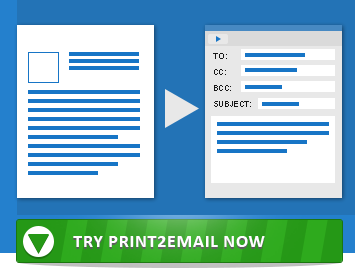 Besides the new Content Based Email Sending, the latest release of Print2Email includes a 128 bit PDF encryption option for password protected PDF documents, improvements in the installation by automatic spooler restart and improvements in Print2Email configuration during installation.
The complete list of improvements in Print2Email version 9.20 includes the following:
Added Content Based Email Sending feature
Improved the installer to restart the spooler service during install and uninstall.
SMTP settings specified at installation can be applied for every user
Replaced MobileMe with iCloud
Improved Gmail and Live Mail interface
Stability improvements for testing username/password with email server connection
Several user interface and usability improvements
Updated manuals
Free Upgrades and Priority Support
Do not forget to subscribe to future releases by purchasing maintenance. With an active maintenance subscription, you will receive all new releases for free! Priority email technical support is also included in your subscription. For more information, call us at +1 (603) 882-7711 Extension 3, or impactsales@blackice.com.

As a special offer, if your maintenance subscription has expired or you did not include the maintenance subscription in your original purchase, simply refer to this newsletter to renew or add maintenance retroactively!