Black Ice Software - November 18, 2014
Fax Broadcast version 6.78 is released!
Legacy Dialogic Boards with Dialogic System Release 6.0!
Black Ice Software has released Fax Broadcast version 6.78 which includes updates for Dialogic Fax Boards. In the latest released version, the Impact Fax Broadcast automatically recognizes the installed and configured legacy Dialogic boards with the Dialogic System Release 6.0 on the computer and the configured Dialogic Boards can be used.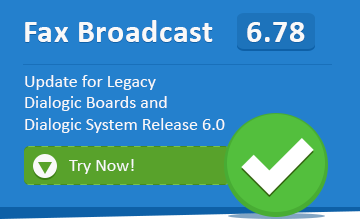 If an older version of Impact Fax Broadcast is already installed on the computer, simply uninstall the old version and install the latest version 6.78 of Impact Fax Broadcast to be able to use the Dialogic Boards for Fax Broadcasting.
Version 6.78 of Impact Fax Broadcast includes improvements in the installation and uninstallation to enhance reliability and the user's experience, and also includes updated documentation.
The complete list of improvements in the latest Impact Fax Broadcast include the following:
Updates for Legacy Dialogic Boards
Minor enhancements in the user interface for Stability improvements
Improved the Installation to enhance user's experience
Free Upgrades and Priority Support
Do not forget to subscribe to future releases by purchasing maintenance. With an active maintenance subscription, you will receive all new releases for free! Priority email technical support is also included in your subscription. For more information, call us at +1 (603) 882-7711 Extension 3, or impactsales@blackice.com.

As a special offer, if your maintenance subscription has expired or you did not include the maintenance subscription in your original purchase, simply refer to this newsletter to renew or add maintenance retroactively!