Black Ice Software - November 29, 2011
Tiff Viewer version 8.50 is released
Black Ice Software has released version 8.50 of the Black Ice Software Tiff Viewer.

Version 8.50 includes thumbnail view for multipage tiff files. In addition, new features include the Annotation toolbar such as "stability improvement for toolbar position" and "improved Metafile icon".
The TIFF Viewer & Plug-in allows users to view, print, and edit any TIFF image on the Internet or to open and view TIFF files on their computer. The Black Ice TIFF Viewer includes both a browser plug-in and a standalone TIFF/Image Viewer.
In the new Black Ice Tiff Viewer version 8.50, if users open a multipage Tiff file, the tiff file pages will be displayed in thumbnail view on the left side of the Tiff Viewer window. Users are able to switch between pages by simply clicking on the thumbnails image. The thumbnail view feature is optional and can be enabled or disabled under the View menu option.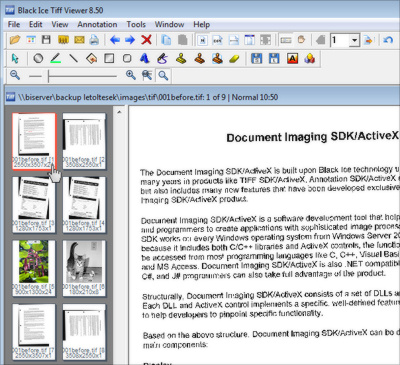 In the Browser Plug-in paging through multipage tiff file is simplified, by making the paging tool bar field editable. Thumbnail view for multipage tiff files are not available in the current release of the Browser Plug-in but it will be available in the upcoming new release.
Read more about TIFF Viewer & Browser Plug-In at:
www.blackice.com/TiffViewer