Black Ice Software - November 8, 2016
BiLPDManager version 2.11 is released!
New BiLPDManager greatly simplifies large scale deployment with a new MSI Installer!
Black Ice Software has released version 2.11 of the BiLPDManager. This version includes a new MSI Installer designed to greatly simplify large scale deployment. The new BiLPDManager MSI Installer allows Administrators to deploy the BiLPDManager to a large number of workstations in Active Directory environments.
With the new MSI Installer, Administrators can save time by registering the BiLPDManager during the installation without any user interaction, and preconfigure the BiLPDManager to start automatically when the windows starts.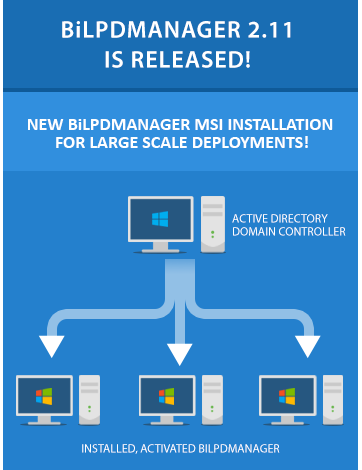 For BiLPDManager availability, please contact sales at sales@blackice.com.
Version 2.11 of BiLPDManager also includes further improvements when trying to start the BiLPDManager under a standard user account on the computer.
The complete list of improvements in the latest BiLPDManager includes the following:
Added BiLPDManager MSI installer
Changed the permission from full-access to read from the registry
Free Upgrades and Priority Support
Do not forget to subscribe to future releases by purchasing maintenance. With an active maintenance subscription, you will receive all new releases for free! Priority email technical support is also included in your subscription. For more information, call us at +1 (561)-757-4107 Extension 3, or impactsales@blackice.com.

As a special offer, if your maintenance subscription has expired or you did not include the maintenance subscription in your original purchase, simply refer to this newsletter to renew or add maintenance retroactively!