Black Ice Software - November 10, 2015
Printer Driver version 14.44 is released!
New capability to share "End-User" Black Ice Printer Drivers and Agent Printers over the network!
Black Ice Software has released the Printer Driver version 14.44 including new printer sharing capabilities. The new Black Ice Printer Driver can be shared over the network as any other physical printer.
A shared network printer has many advantages in todays office. Shared network printers are quite simple to set up and very easy to use once configured. Some of the primary benefits include:
Saving Time: Administrators only have to install the printer driver on one computer. Once installed, it can be shared with only a few clicks and can be used on the entire office network.
Less Maintenance: You only have to maintenance one installed printer, instead of troubleshooting various installed virtual printers on every office computer.
Agent Printers for Common Tasks: Administrators can preconfigure and share Agent Printers, letting employees to minimize the amount of time consumed by setting up the printers each time.
Better Administration: Every printed document will be gathered to one centralized computer, letting Administrators to easily view through and process the documents.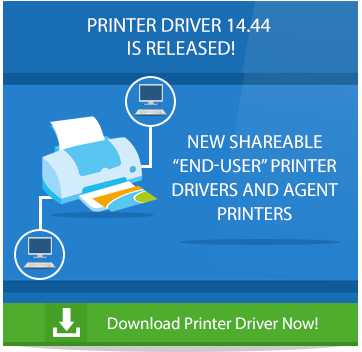 The Black Ice Printer Driver installed by using the MSI installers also can be shared over the network or through Group Policy for large scale deployments.
The complete list of improvements in the latest Black Ice Printer Driver include the following:
Enabled printer sharing for all drivers
Stability improvement in the MSI installers for reading custom INI files
Stability improvement in the licensed installers for detecting already installed OEM Release printer drivers
Stability improvement for loading custom paper sizes from profiles
Renamed default printer profiles
Set disable group file option in the default profiles
Updated manuals
The Improved Network Printer sharing is available in OEM Printer Drivers, End-User Printer Drivers and Agent Printers.
Free Upgrades and Priority Support
Do not forget to subscribe to future releases by purchasing maintenance. With an active maintenance subscription, you will receive all new releases for free! Priority email technical support is also included in your subscription. For more information call us at +1 (561) 757-4107 Extension 2, or email us at sales@blackice.com.

As a special offer, if your maintenance subscription has expired or you did not include the maintenance subscription in your original purchase, simply refer to this newsletter to renew or add maintenance retroactively!