Black Ice Software - November 4, 2014
BiBatchConverter version 4.04 is released!
Added AutoCAD printing, improved printing for large HTML documents, improved file name generation and more!
Black Ice Software has released BiBatchConverter version 4.04 which includes new AutoCAD printing, improved printing for large HTML documents, improved file name generation to save the printed documents as the same name as the input source documents, improved installation with automatic spooler restart to enhance reliability, and dozens of more improvements.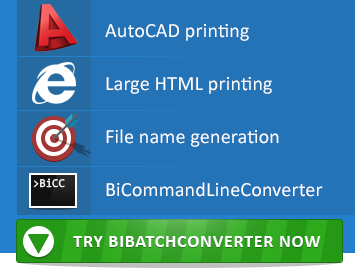 Version 4.04 of BiBatchConverter with the updated Printer Driver includes improvements for the Mail Merge feature, stability improvements for printing very large HTML documents, PDF documents with Asian characters, and improvements for filename generation when printing PDF or Visio documents.
The updated BiCommandLineConverter can be used with an abbreviation by simply typing BiCC instead of BiCommandLineConverter.exe to start a conversion.
The complete list of improvements in the latest BiBatchConverter include the following:
Improved BiBatchConverter user interface to enhance user's experience
Added AutoCAD (*.dwg) document support
Update Printer Driver
Stability improvement for Mail Merge
Improved output filename generation when printing from Visio
Stability improvement when printing documents with Eastern characters to PDF format
Stability improvement when printing to HTML format
Improved filename generation when printing PDF documents
Improved profile loading
Enabled Profile Manager for Agent Printers
Stability improvement for BiBatchConverter licensing
Updated Auto-print
Added automatic spooler restarting to enhance reliability
Updated BiCommandLineConverter
Added /PDNG parameter to use the Printer Driver file name generation settings for conversions
Small user interface improvements
Added capability to use short name of BiCommandLineConverter for conversions; BiCC
Stability improvement when printing PDF input documents
Convert the documents with the same name as the source document
Updated manuals
Updated BiCommandLineConverter manuals
Free Upgrades and Priority Support
Do not forget to subscribe to future releases by purchasing maintenance. With an active maintenance subscription, you will receive all new releases for free! Priority email technical support is also included in your subscription. For more information, call us at +1 (603) 882-7711 Extension 3, or impactsales@blackice.com.

As a special offer, if your maintenance subscription has expired or you did not include the maintenance subscription in your original purchase, simply refer to this newsletter to renew or add maintenance retroactively!