Black Ice Software - November 2, 2016
Printer Driver version 14.75 is released!
Added multi-printer installations for the X1 Printer Drivers and added new features to the Barcode printing to insert a new page to the front of the document!
Black Ice Software has released version 14.75 of the Printer Driver. This version includes new capabilities to install multiple instances of X1 printers on the same computer! Printing Speed and Reliability increase dramatically when multiple instances of the printer driver are installed on the same system printing simultaneously.
For more information about the improved X1 Printer Drivers and multi-printer installations, please contact sales@blackice.com.
Version 14.75 of the Black Ice X1 Printer Driver includes new features to insert a new page with barcode in front of the printed document. The barcode could be based on the first page content, could be a static value, or an input content of a text file. The Text file content for the barcode, can be updated before every print job.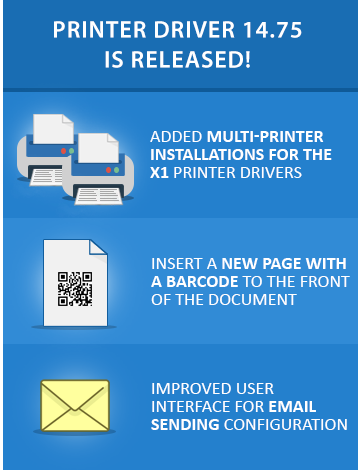 The latest Black Ice Printer Driver includes further stability improvements for detecting already installed Black Ice Printer Drivers during the installation, and minor user interface improvements when configuring the Email sending in the Printer Driver Printing Preferences.
The complete list of improvements in the latest Printer Driver include the following:
Added option X1 Printer Drivers to insert a page in front of the printed document with Barcode
Added multi printer install option to ColorPlus X1 printer driver installer
Added multi printer install option to Monochrome\TIFF X1 printer driver installer
Added multi printer install option to PDF X1 printer driver installer
Stability improvement for concurrent printer driver detection
Minor user interface improvements on the Email Settings dialog
Performance improvement for printing some pages with extremely large amount of EMF records
Stability improvement for checking barcode size
Updated Manuals
Free Upgrades and Priority Support
Do not forget to subscribe to future releases by purchasing maintenance. With an active maintenance subscription, you will receive all new releases for free! Priority email technical support is also included in your subscription. For more information call us at +1 (561) 757-4107 Extension 2, or email us at sales@blackice.com.

As a special offer, if your maintenance subscription has expired or you did not include the maintenance subscription in your original purchase, simply refer to this newsletter to renew or add maintenance retroactively!