Black Ice Software - October 29, 2015
Printer Driver version 14.43 is released!
Greatly improved searchable vector PDF printing and more!
Black Ice Software has released the Printer Driver version 14.43 including greatly improved PDF printing. The improved PDF can generate searchable PDF, even if the source document uses glyph indexes instead of characters. The new PDF printing also comes with the capability to simply copy the text on the generated PDF document, and paste it in any other text editor, for example Word or Notepad.
The new PDF improvement provides much better possibilities to convert and archive your documents in PDF file format, while preserving the capability to effectively search in multiple documents or even directories containing your PDFs.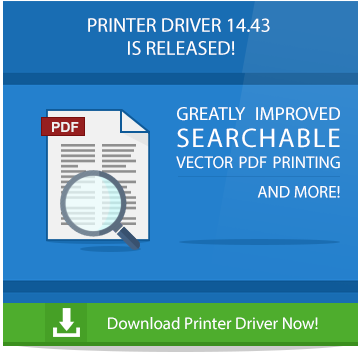 Version 14.43 of the Black Ice Printer Driver also includes improvements to restore Custom paper sizes when reloading a profile, and improvements for the file format selection on the Save as window, if the configured output directory does not exist.
The complete list of improvements in the latest Black Ice Printer Driver include the following:
Updated PDF Dlls to version 2.6.6.632
Improvements for generating searchable PDF documents
Improvements to allow copy-pasteing unicode text from the generated PDF documents
Custom paper sizes are now restored when reloading a profile file
Free Upgrades and Priority Support
Do not forget to subscribe to future releases by purchasing maintenance. With an active maintenance subscription, you will receive all new releases for free! Priority email technical support is also included in your subscription. For more information call us at +1 (561) 757-4107 Extension 2, or email us at sales@blackice.com.

As a special offer, if your maintenance subscription has expired or you did not include the maintenance subscription in your original purchase, simply refer to this newsletter to renew or add maintenance retroactively!