Black Ice Software - November 08, 2011
Print2RDP for Web Access
Black Ice Software has released (11/08/2011) version 5.23 of the Print2RDP with the new Web Access feature for simplified browser printing supported on Windows Servers 2008 and R2. Print2RDP's new key enhancement feature simplifies printing for users with a browser interface for terminal server Web Access.

Terminal Services Web Access (TS Web Access) is a role service for Terminal Services. TS Web access allows users to use Terminal Services RemoteApp (TS RemoteApp) programs, and connect to the terminal server desktop. TS Web Access also enables users to connect from a Web browser to the remote desktop of any server or client computer where they have the appropriate access.

How does it work?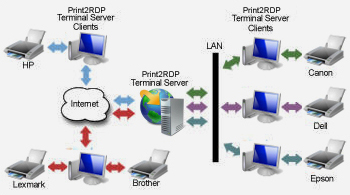 Customers with Version 5.20 and 5.22 can upgrade for free. Customers with a valid maintenance subscription can also receive the most recent upgrade for free. Please contact impactsales@blackice.com with your serial key.
Read more about Black Ice Print2RDP at:
www.blackice.com/Print2RDP
***Please remember to upgrade the Print2RDP client
when upgrading the server version.