Black Ice Software - October 21, 2015
Tiff Viewer version 11.35 is released!
Improvements on the User Interface with Note and Highlight annotations, improved annotations handling and JPEG image loading
Black Ice Software has released version 11.35 of the Tiff Viewer. This version includes a greatly improved user interface by moving Note and Highlight annotations to the main ribbon. It helps users to edit and markup documents more efficiently.
The Tiff Viewer version 11.35 includes major improvements for external and embedded annotation handling, displaying and saving to enhance user's experience.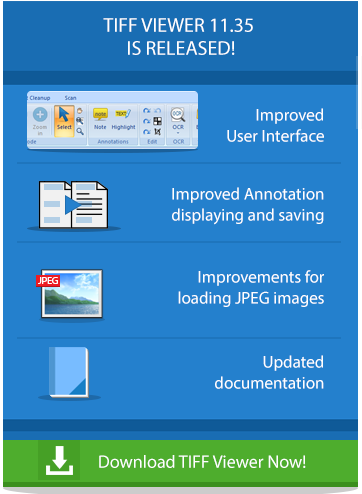 Version 11.35 of the Tiff Viewer includes improvements for displaying JPEG images and also includes updated documentation to let users take advantage of the new improvements.
The complete list of improvements in the latest Tiff Viewer include the following:
Added Highlight and Note annotation buttons to the Home tab
Moved SharePoint button from the Home tab to the Tools tab
Improved external annotation handling on image Save (automatically saving the annotation to the external annotation file if external annotation was loaded)
Improved annotation handling when reloading the annotation after Save or Save As
Improved annotation handling when Undo change on external annotation
Improved annotation displaying on select mode changes
Improved context menu handling on Ribbon when deleting an annotation
Removed Load Annotation menu item from Annotation right-click menu
Updated Image DLLs to version 12.55.513
Improved Jpeg image loading
Improved DPI value loading for Jpeg image format
Updated BiAnno.dll to version 12.56.514
Updated manuals
Free Upgrades and Priority Support
Do not forget to subscribe to future releases by purchasing maintenance. With an active maintenance subscription, you will receive all new releases for free with your subscription! Priority email technical support is also included in your subscription. For more information, call us at +1 (561) 757-4107 Extension 2, or impactsales@blackice.com.

As a special offer, if your Maintenance Subscription has expired or you did not include the Maintenance Subscription in your original purchase, simply refer to this newsletter to renew or add Maintenance retroactively!