Black Ice Software - October 15, 2015
Printer Driver version 14.42 is released!
Greatly improved Text Extraction from PDF and HTML documents, Improvements for the Installation, Messaging Interface and new Email sending features in the Printer Manager!
Black Ice Software has released the Printer Driver version 14.42 including greatly improved Text Extraction and font handling from PDF and HTML documents. Version 14.42 also includes stability improvements for printer driver installers and for the Messaging Interface for more reliable document conversion with multiple printers in parallel.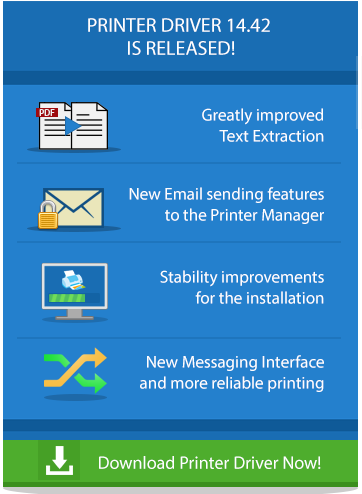 Version 14.42 of the Black Ice Printer Driver Printer Manager includes the new Audit Logging feature to log every email sent on the system, and improved Email Sending feature for POS (Point of Sales) receipt printing. The new email sending improvements can be combined with POS systems to automate email sending to customers, predefine the email subject, email body and only prompt the user to enter the recipients.
The complete list of improvements in the latest Black Ice Printer Driver include the following:
Greatly improved Text Extraction from PDF and HTML documents
Stability improvement for printer driver installers if the Print Spooler service is not running
Stability improvement for Message Capture when used with multiple Printers in paralell
Improved Messaging Interface logging, error reporting and new configurable timeout value in the Printer Driver INI file
Stability improvement for setting up and testing SMTP connections using the Print Manager
Added the "Audit log", "Prompt the user only for email address" and "Delete every file, including attachment, after the email is sent" email options to the Printer Manager UI
Added Message Capture warnings to the Group File
Added new configurable time-out value for the Message Capture to the INI files
Increased Message Capture default timeout values to 10 seconds
Updated manuals
Free Upgrades and Priority Support
Do not forget to subscribe to future releases by purchasing maintenance. With an active maintenance subscription, you will receive all new releases for free! Priority email technical support is also included in your subscription. For more information call us at +1 (561) 757-4107 Extension 2, or email us at sales@blackice.com.

As a special offer, if your maintenance subscription has expired or you did not include the maintenance subscription in your original purchase, simply refer to this newsletter to renew or add maintenance retroactively!