Black Ice Software - October 12, 2016
Printer Driver version 14.73 is released!
Significantly improved printing speed to PDF file formats, improvements for rotation and added Unicode text support for QR barcodes!
Black Ice Software has released version 14.73 of the Printer Driver. This version includes significant improvements to printing performance when printing to PDF file formats on single thread or multi-thread parallel. The printing speed was 100% faster when printing common document types to PDF! Faster printing increases productivity by reducing idle time.
Version 14.73 of the Black Ice Printer Driver includes changes in the Page, Annotation, Barcode and Bates Numbering rotation features to rotate clockwise.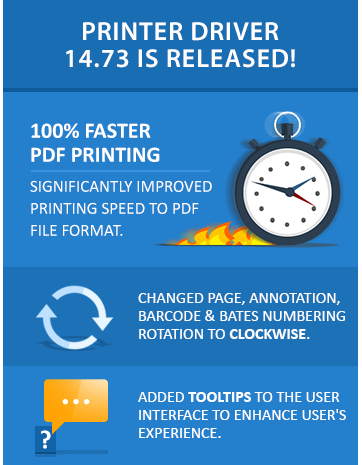 The latest Black Ice Printer Driver includes further stability improvements for Bates Numbering and Annotation rotation and Unicode text support for printing QR barcodes.
We have enhanced the user's experience with an improved user interface and easy-to-use tooltips as part of the latest version of the Black Ice Printer Driver.
The complete list of improvements in the latest Printer Driver include the following:
100% faster printing to PDF on single thread or parallel multi-threaded printing.
Stability improvement for Bates Number and Annotation rotation
Added Unicode text support for QR barcodes
Changed Page, Annotation, Barcode and Bates Numbering rotation to clockwise
Removed raw file formats from the user interface by default
Updated the License agreement
Added Tooltips to the user interface to enhance user's experience
Free Upgrades and Priority Support
Do not forget to subscribe to future releases by purchasing maintenance. With an active maintenance subscription, you will receive all new releases for free! Priority email technical support is also included in your subscription. For more information call us at +1 (561) 757-4107 Extension 2, or email us at sales@blackice.com.

As a special offer, if your maintenance subscription has expired or you did not include the maintenance subscription in your original purchase, simply refer to this newsletter to renew or add maintenance retroactively!