Black Ice Software - October 1, 2015
Print2Email version 9.38 is released!
Significantly improved printing to PDF file formats, and stability improvements in the installation!
Black Ice Software has released the Print2Email version 9.38 including the improved PDF for printing documents. This upgrade includes improved PDF for Unicode (Asian) characters, bold text rendering for specific fonts, Type 1 font embedding, and printing documents that contain embedded fonts with font subsetting.
Version 9.38 of the Print2Email also contains stability improvement for appending PDF files using the "Combine/Merge multiple documents into a single file" option and major improvements for printing PowerPoint documents to PDF or HTML file format by using the Print2Email.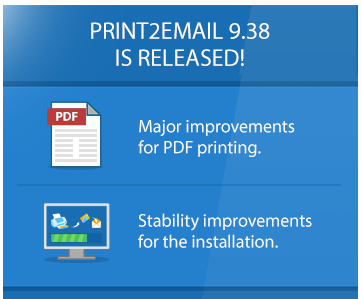 Besides the improvements in printing, Print2Email version 9.38 includes stability improvements in the installation for testing the specified email sending configuration and credentials, and stability improvements for sending emails with MAPI (Outlook) client.
The complete list of improvements in Print2Email version 9.38 includes the following:
Stability improvement for testing SMTP connections
Stability improvement for sending email with MAPI when Print2Email is started as Administrator and Outlook is started normally without Administrative privileges
Fixed slowdown in printing of PDF files to TIFF - Microsoft Update KB2998812 cause temporary fonts to accumulate in temp folder.
Updated PDF DLLs to version 2.6.5.631
Improvements for printing vertical Asian text
Improved bold text rendering for some fonts
Improved handling of fonts that contain unicode characters in the name of the font (fixes disappearing characters, incorrect font substitutions and incorrectly positioned characters in Japanese text)
Improvement for embedding Type 1 fonts
Improvement for printing documents that contain embedded fonts, with font subsetting enabled
Updated manuals
MSI installation is available for large scale deployment. For MSI installer availability, please contact sales@blackice.com.
Free Upgrades and Priority Support
Do not forget to subscribe to future releases by purchasing maintenance. With an active maintenance subscription, you will receive all new releases for free! Priority email technical support is also included in your subscription. For more information, call us at +1 (561) 757-4107 Extension 2, or impactsales@blackice.com.

As a special offer, if your maintenance subscription has expired or you did not include the maintenance subscription in your original purchase, simply refer to this newsletter to renew or add maintenance retroactively!