Black Ice Software - October 2, 2014
Printer Driver 14.15 is released!
Improved PDF, HTML and AutoCad printing and improvements for Auto-print Samples!
Black Ice Software has released the Printer Driver version 14.15 including improvements when printing documents to HTML and PDF file formats with Chinese, Korean and Japanese characters, and improvements for file name generation when printing PDF documents.
Version 14.15 of the Black Ice Printer Driver includes significant improvements in the API/Resource Toolkit for the Auto-print Sample applications. The updated Auto-print Samples include improved printing of AutoCad drawings and printer name handling.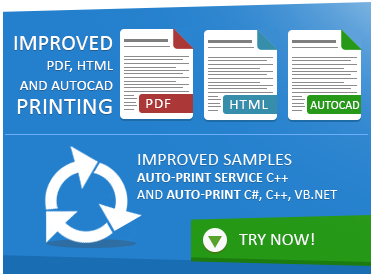 Black Ice Printer Driver version 14.15 also includes improvements to the Abuto-print Service Sample to start the conversion automatically when the operating system starts-up. This release also includes updated documentation for the Printer Drivers, Resource Toolkit, MSI Installers and BiCommandLineConverter.
The complete list of improvements in the latest Black Ice Printer Driver include the following:
Improved profile loading
Updated PDF Dlls to version 2.6.2.613
Stability improvements when printing documents with Eastern characters to PDF format
Stability improvements when printing to HTML format
Improved filename generation when printing PDF documents
Improved printer name handling in Auto Print C# and VB.NET Samples
Improvements for printing AutoCad drawings with Auto-print Samples
Deleting 'Common profiles' folder during uninstall
The AutoPrint Service sample starts converting documents after the spooler service is started
In Auto-print samples, when printed the same file twice, in the converted folder the file was overwritten. Changed to create new file with '(1)' name extension
Updated Printer Driver, Resource Toolkit, BiCommandLineCoverter and MSI documentation
Free Upgrades and Priority Support
Don't forget to subscribe to future releases by purchasing maintenance. With an active maintenance subscription, you will receive all new releases of your software for free with your subscription! Also included with your Subscription is Priority email technical support. For more information call us at +1 (603) 882-7711 Extension 2, or sales@blackice.com.

As a special offer, if your Maintenance Subscription has expired or you did not include the Maintenance Subscription with your original purchase, simply mention this newsletter to renew or add Maintenance retroactively!