Black Ice Software - September 27, 2016
Print2RDP version 6.17 is released!
General improvements for printing through Print2RDP, major improvements for font handling and for the Print2RDP registration!
Black Ice Software has released version 6.17 of the Print2RDP. This version includes improvements for printing documents through RDP. With the new improvements, the Client's printer starts to spool and print the document immediately after a document has started to print on the server. The new improvements result in faster and more reliable printing.
The latest version of Print2RDP includes major improvements for printing webpages with Unicode characters, such as Chinese, Korean, and Russian from Internet Explorer and Microsoft Edge browsers.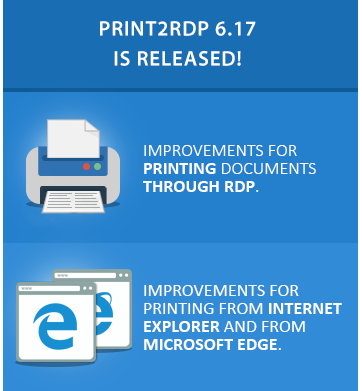 Version 6.17 of Print2RDP includes stability improvement for registering with certain WiFi adapters and stability improvement for multi-user, parallel license validation.
The complete list of improvements in the latest Print2RDP include the following:
Printing starts on the client as soon as the first page is printed on the server
Improvements in embedded font handling
Updated eLicense.dll to version 5.05.178
Stability improvement for registering with certain WiFi adapters (Error 41)
Stability improvement for multi-user, parallel license checking (Error codes 47 and 24)
Free Upgrades and Priority Support
Do not forget to subscribe to future releases by purchasing maintenance. With an active maintenance subscription, you will receive all new releases for free! Priority email technical support is also included in your subscription. For more information, call us at +1 (561)-757-4107 Extension 3, or impactsales@blackice.com.

As a special offer, if your maintenance subscription has expired or you did not include the maintenance subscription in your original purchase, simply refer to this newsletter to renew or add maintenance retroactively!