Black Ice Software - September 22, 2016
BiLPDManager version 2.10 is released!
New separate spooler directories for each printer queue!
Black Ice Software has released version 2.10 of the BiLPDManager. This version includes new separate spooler directories on the system for each printer queue, to allow administrators to categorize and distinguish print jobs from different printers and systems.
The new BiLPDManager includes improvements for naming the printed documents. Also included in the most recent release; the printed output file name is the same as the original file name, allowing users and administrators to track the printed documents.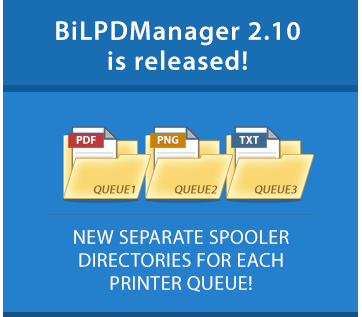 The latest released BiLPDManager version 2.10 includes minor improvements for entering IP Address or Range, and also includes minor improvements on the user interface, to enhance user's experience.
The complete list of improvements in the latest BiLPDManager includes the following:
Added separated spooler directory feature for each print queue
Minor improvements on the user interface on the About, General and Queue Settings tabs
Minor improvements for job title
Minor improvements for entering IP Address or Range
Changed printed output file name to the same as the original file name
Unified product name to BiLPDManager
Updated manual
Free Upgrades and Priority Support
Do not forget to subscribe to future releases by purchasing maintenance. With an active maintenance subscription, you will receive all new releases for free! Priority email technical support is also included in your subscription. For more information, call us at +1 (561)-757-4107 Extension 3, or impactsales@blackice.com.

As a special offer, if your maintenance subscription has expired or you did not include the maintenance subscription in your original purchase, simply refer to this newsletter to renew or add maintenance retroactively!