Black Ice Software - September 29, 2015
Document Converter Server is released!
New Windows Service based high volume document converter with multi-printer parallel conversion and easy-to-use user interface.
Black Ice Software has released the Document Converter Server which is capable to convert documents by using multiple built-in Black Ice Printer Drivers simultaneously. The New Document Converter Server comes with the Service Manager. This provides an easy-to-use user interface to configure the Document Converter Service and the document conversion.
The feature rich Document Converter Server supports over 40 input file formats. The Document Converter Server includes directory monitoring, conversion scheduling, predefined profiles for common tasks, document filtering and, it is capable to process and map subdirectories. These are just a few of the dozens of features.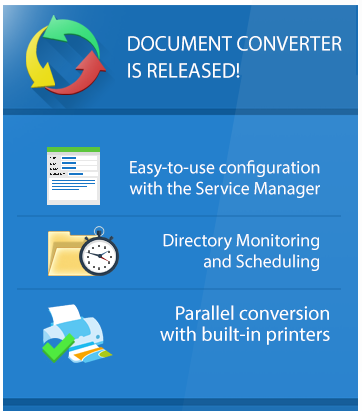 The Document Converter Server supports Windows Desktop operating systems such as Windows 8.1, 8, 7 and Windows Server systems such as 2012, 2008 R2 and 2008.
For more information about the Document Converter Server please refer to the Document Converter Server webpage.
Free Upgrades and Priority Support
Do not forget to subscribe to future releases by purchasing maintenance. With an active maintenance subscription, you will receive all new releases for free! Priority email technical support is also included in your subscription. For more information, call us at +1 (561)-757-4107 Extension 2, or impactsales@blackice.com.

As a special offer, if your maintenance subscription has expired or you did not include the maintenance subscription in your original purchase, simply refer to this newsletter to renew or add maintenance retroactively!