Black Ice Software - September 13, 2016
Document Converter Server version 1.20 is released!
Added searchable PDF, editable HTML and XML file format support for Document Converter Server, for parallel document conversions!
Black Ice Software has released the Document Converter version 1.20. Added feature of converting documents to searchable PDF file formats in parallel using multiple printer drivers.
The new PDF support in version 1.20 of Document Converter Server can be used to monitor a directory with subdirectories to batch convert documents such as Microsoft Office Documents (DOCX, DOC, DOCM, DOT, DOTX, TXT, RTF, XLSX, XLS, XLSM, XLSB, CSV, PPSX, XPS, PPS, PPSM, PPT, PPTX, PPTM, Visio), HTML, PDF, Image Files (TIF, JPG, JPEG, BMP, GIF, PNG, DCM), AutoCAD (DWG) files, Email files (MSG, EML), EMF to PDF simultaneously.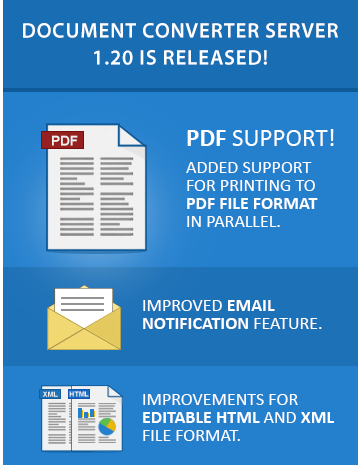 The latest Document Converter Server also can be used to apply Watermark, Header, Footer, Annotation, Bates Numbering and Barcodes on the printed PDF documents, or to apply compression to reduce the size of the PDF documents.
Version 1.20 of Document Converter Server also includes an improved Email Notification feature, to send an email if the conversion has stopped, if error occured during the conversion or if the conversion has completed.
The complete list of improvements in the latest Document Converter includes the following:
Added support for printing to PDF, editable HTML, and editable XML file format in parallel document conversion
Improved Email Notification feature

- Send report when the conversion is complete
- Send email on every error message
- Send email when the conversion is complete

Stability improvement for Document Converter installer if additional DLL files is locked
Updated PDF Dlls to version 2.8.0.661
Stability improvement for printing documents that contain zero length text records
Stability improvement for multi-threaded printing into PDF, HTML and XML formats
Updated Printer Driver to version 14.71.1553
Added User Name, Computer Name, Timestamp, First Bates Number and Last Bates Number parameters to the "Start Application" feature
Updated eLicense.dll to version 5.04.178
Stability improvement for registering with certain WiFi adapters (Error 41)
Stability improvement for multi-user, parallel license checking (Error codes 47 and 24)
Free Upgrades and Priority Support
Do not forget to subscribe to future releases by purchasing maintenance. With an active maintenance subscription, you will receive all new releases for free! Priority email technical support is also included in your subscription. For more information, call us at +1 (561)-757-4107 Extension 3, or impactsales@blackice.com.

As a special offer, if your maintenance subscription has expired or you did not include the maintenance subscription in your original purchase, simply refer to this newsletter to renew or add maintenance retroactively!