Black Ice Software - August 27, 2014
BiBatchConverter 4.00 is released!
Formerly FileMorph Batch Converter
Black Ice Software has rebranded FileMorph to the BiBatchConverter to better reflect the product functionality. the BiBatchConverter version 4.00 includes several new improvements and a new user interface to enhance user's experience.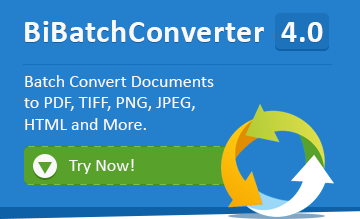 Version 4.0 of the Black Ice BiBatchConverter includes a New BiCommandLineConverter which is an easy-to-use and flexible document conversion tool which can batch convert documents or directories from command line! The New BiCommandLineConverter can batch convert, merge, split, rename documents and apply profiles for commonly used conversion tasks, such as Faxing or Archiving.

The complete list of improvements in the latest BiBatchConverter version 4.00 includes the following:
Renamed FileMorph to BiBatchConverter
Added BiCommandLineConverter
Removed Save document manually option
Removed Demo limitation when reached 250 converted documents
Fixed Help buttons in the Printing preferences window
Updated Printer Driver to version 14.13.952
Update manual
Free Upgrades and Priority Support
Do not forget to subscribe to future releases by purchasing maintenance. With an active maintenance subscription, you will receive all new releases for free with your subscription! Priority email technical support is also included in your subscription. For more information, call us at +1 (603) 882-7711 Extension 3, or impactsales@blackice.com.

As a special offer, if your Maintenance Subscription has expired or you did not include the Maintenance Subscription in your original purchase, simply refer to this newsletter to renew or add Maintenance retroactively!