Black Ice Software - August 25, 2015
BiBatchConverter version 4.20 is released!
A Service based converter with new features to process and mirror subdirectories, scheduling to filter out specific file formats, and better user interface.
Black Ice Software has released the BiBatchConverter version 4.20 including the new features for the BiBatchConverter Service Manager to process and mirror the subdirectories during the document conversion. This feature allows Users and Administrators to preserve exactly the same directory structure they had before the conversion. The latest version of the BiBatchConverter is also able to delete the processed documents after the conversion.
The BiBatchConverter service includes new capabilities to set up scheduling to run the document conversion. Users and Administrators can set up One Time, Daily, Weekly and Monthly document conversion for specific times on specific days. The new BiBatchConverter Service is able to filter out specific file formats, to allow Users and Administrators to convert only the file formats they would like.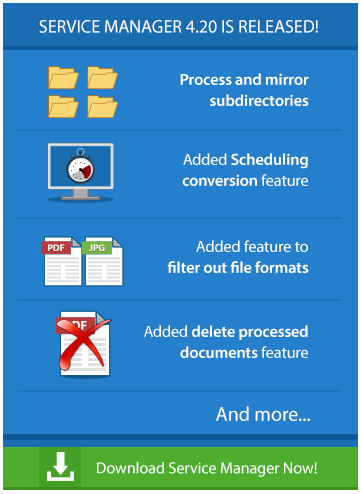 Besides these new features, the BiBatchConverter includes several user interface improvements and updated documentation to enhance the user's experience.
The complete list of improvements in the latest BiBatchConverter include the following:
Added process subdirectories feature for Service Manager
Added map subdirectories feature for Service Manager
Added delete empty subdirectories feature for Service Manager
Added delete files after conversion feature for Service Manager
Added Scheduling feature for Service Manager
Added Filter supported documents feature for Service Manager
Minor improvements on the Service Manager user interface
Updated manuals
For more information about the Service Manager, please refer to the Service Manager webpage.
Free Upgrades and Priority Support
Do not forget to subscribe to future releases by purchasing maintenance. With an active maintenance subscription, you will receive all new releases for free! Priority email technical support is also included in your subscription. For more information, call us at +1 (561)-757-4107 Extension 3, or impactsales@blackice.com.

As a special offer, if your maintenance subscription has expired or you did not include the maintenance subscription in your original purchase, simply refer to this newsletter to renew or add maintenance retroactively!