Black Ice Software - August 10, 2016
Document Converter Server version 1.10 and BiBatchConverter 4.28 is released!
New transferable licensing is available for Document Converter Server and dozens of new features!
Black Ice Software has released the Document Converter version 1.10. This version includes new licensing with transferable licenses to allow customers to move the Document Converter from one computer to another quickly and easily.
Version 1.10 of Document Converter Server and 4.28 of BiBatchConverter includes an improved Auto-print module with stability improvements for detecting corrupted PDF documents, password protection, and improvements for printing certain PDF documents generated by Ghostscript.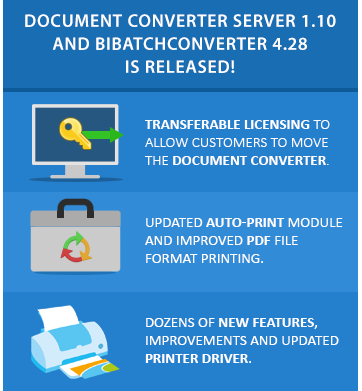 The latest Document Converter Server and BiBatchConverter version also includes an improved Printer Driver featuring a new content based email sending feature, new INI file options to hide FTP, SharePoint and Email options and many more stability improvements and minor enhancements.
The complete list of improvements in the latest Document Converter and BiBatchConverter includes the following:
Added transferable license handling to Document Converter Server
Updated Auto-print
Stability improvement for printing certain PDF documents generated by Ghostscript
Stability improvement for detecting corrupted PDF files
Stability improvement for detecting password protection in some PDF files
Updated Printer Driver
Added option to overwrite existing documents
Added content based email sending feature
Stability improvement for specifying very long email body texts or addresses
Stability improvement for printing landscape PDF documents using the 204x98 DPI Standard Fax Compatibility Mode
Stability improvement for annotation, bates numbering and barcode when printing landscape pages with printer redirection and 204x98 DPI Standard Fax mode
Stability improvement for printing documents with varying page orientations
Added INI file options to hide FTP, SharePoint and Email options from the user interface
Stability improvement for starting the BiBatchconverter and Document Converter Service
Added the Print Spooler service checking for BiBatchConverter and Document Converter Service Manager
Free Upgrades and Priority Support
Do not forget to subscribe to future releases by purchasing maintenance. With an active maintenance subscription, you will receive all new releases for free! Priority email technical support is also included in your subscription. For more information, call us at +1 (561)-757-4107 Extension 3, or impactsales@blackice.com.

As a special offer, if your maintenance subscription has expired or you did not include the maintenance subscription in your original purchase, simply refer to this newsletter to renew or add maintenance retroactively!