Black Ice Software - July 30, 2014
New Printer Driver with a new Fax optimized resolution!
New Fax optimized resolution: 200x200 DPI!
Black Ice Software has released the Printer Driver version 14.11 including a new 200x200 DPI Fax optimized resolution to ensure the best quality when creating faxable documents from Adobe.
When the new 200x200 Fax DPI is selected, the resolution is 200x200 DPI internally, but the image is stored as 204x196 DPI. This new feature is useful when printing from an application, such as Adobe, that cannot print correctly when the horizontal and vertical resolution values are different. Selecting this setting, enables poorly designed applications, such as Adobe, to print the page correctly and the document can still be faxed in high quality.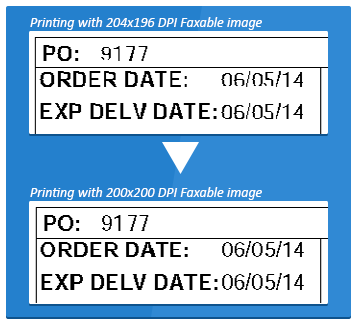 To Apply the new Fax optimized resolution on the printed documents, go to the Control Panel > Printers and Devices > right click on the Black Ice Printer Driver > Printing Preferences > Device Settings Tab > Under Force Fax Resolution, check the Faxable Image checkbox, and select the 200x200 DPI option.
The complete list of improvements in the latest Black Ice Printer Driver include the following:
Added 200x200 DPI resolution to FAX output
"Rotate Landscape Image to Portrait" option is now available for all output file formats
Added page rotation 90, 180, 270 degrees Counter-Clockwise option for all output file formats
Fixed Threshold option Intensity scale
Improvement for the "Redirect Printing" option
Improvements for Multi-threaded printing
Updated Manuals
Updated MSI installation guides
Change in Maintenance Renewal Upgrade Reminders
Black Ice Software will be discontinuing the quarterly maintenance renewal upgrade reminders. As of August 1st, customers will receive a newsletter notification each time a new version of the Printer Driver is available. This will allow our customers to up to date every time new features and fixes are available.
Free Upgrades and Priority Support
Don't forget to subscribe to future releases by purchasing maintenance. With an active maintenance subscription, you will receive all new releases of your software for free with your subscription! Also included with your Subscription is Priority email technical support. For more information call us at +1 (603) 882-7711 Extension 2, or sales@blackice.com.

As a special offer, if your Maintenance Subscription has expired or you did not include the Maintenance Subscription with your original purchase, simply mention this newsletter to renew or add Maintenance retroactively!