Black Ice Software - July 29, 2014
FileMorph Batch Converter 3.02 is released!
Dozens of new Features such as Header and Footer printing, Improved PDF printing, Rotate documents counter-clockwise and More!
Print the Header and Footer on the printed document to provide important background information and to make your document look more professional.
Open PDF Settings to control how the printed PDF document will look when the user opens it in a PDF viewer.
Rotate documents 90, 180 and 270 degrees Counter-Clockwise or Rotate Landscape documents to Portrait to rotate the improperly oriented or scanned documents.
Post printing options improved when printing on Citrix, such as Upload to SharePoint, Send document in Email and more.
Debugging option to speed up troubleshooting, isolate printing problems, and isolate defective documents or inconsistent printing applications.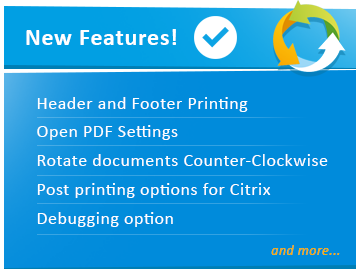 The complete list of improvements in the latest FileMorph version 3.02 includes the following:
Updated Printer Driver to version 14.11.895

Added Annotation Header/Footer feature
Added PDF Open settings to PDF and PDF/A file formats
Added page rotation option for all output file formats
Added 200x200 DPI resolution to FAX output
Added Debug Logging feature to the Printer Driver
"Rotate Landscape Image to Portrait" Feature is now available for all output file formats
Stability improvements for Multithreading
Improved filename generation when printing from Notepad
Improved initial directories when browsing in Printing Preferences
Improved Post Printing options when printing on Citrix
Redesigned Annotation settings tab

Improved user interface to enhance user's experience
Update manual
Free Upgrades and Priority Support
Do not forget to subscribe to future releases by purchasing maintenance. With an active maintenance subscription, you will receive all new releases for free with your subscription! Priority email technical support is also included in your subscription. For more information, call us at +1 (603) 882-7711 Extension 3, or impactsales@blackice.com.

As a special offer, if your Maintenance Subscription has expired or you did not include the Maintenance Subscription in your original purchase, simply refer to this newsletter to renew or add Maintenance retroactively!