Black Ice Software - June 25, 2015
BiBatchConverter version 4.10 is released!
Updated document converter engine, Upload to FTP Feature, Adobe Reader DC support, MSI installer, Improved Extract Text Feature and more ….!
Black Ice Software has released the BiBatchConverter version 4.10 includes great new features and major improvements! The new BiBatchConverter includes a updated document printing module for faster and more reliable conversion of complex document, more detailed error reporting and new capabilities to fine tuning the conversion for problematic documents. Support for printing PDF documents with Adobe Reader DC.
Version 4.10 of the BiBatchConverter includes a new feature to Upload the converted documents to an FTP Server, new EMF output file format, and improvements in the Extract Text feature especially for Hebrew and Arabic documents.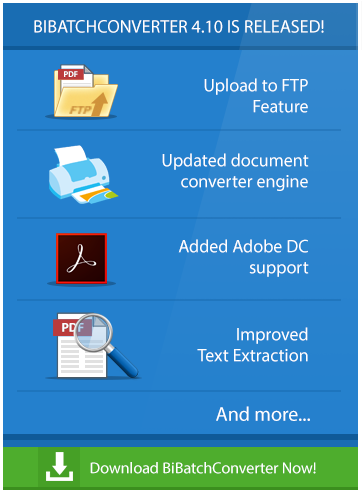 Version 4.10 of the BiBatchConverter also includes new predefined profiles to split multipage PDF and TIFF documents into single file, updated documentation and dozens of improvements to enhance user's experience.
The complete list of improvements in the latest BiBatchConverter include the following:
Updated document printing module for the BiBatchConverter
Improved PDF, Excel, Word password protection detection
Added Adobe Reader DC support
Added FTP upload feature
Added EMF output file format
Added Email Sending Utility and SharePoint Uploading Utility .Net framework 4.0 version
Significantly improved performance for printing to PDF file format
Added embedded font indexing
Improved performance of drawing operations
Stability improvements in the registration
Added "Split multipage PDF documents to single page" profile
Added "Split multipage Tiff documents to single page" profile
Added 204x98 DPI Compatibility Standard Fax mode, for applications that cannot handle 204x98 DPI properly (e.g. Adobe Reader)
Improved "Extract Text to File" option for Hebrew and Arabic and improved text output line detection
Stability improvement for image file name generation
Stability improvement for printing Excel files into PDF documents using the "Combine/Merge multiple documents into a single file" option
Stability improvement for printing Office documents with embedded printer settings (DEVMODE structures)
Minor improvements on the user interface
Added BiBatchConverter MSI installer
Updated manuals
Free Upgrades and Priority Support
Do not forget to subscribe to future releases by purchasing maintenance. With an active maintenance subscription, you will receive all new releases for free! Priority email technical support is also included in your subscription. For more information, call us at +1 (603) 882-7711 Extension 3, or impactsales@blackice.com.

As a special offer, if your maintenance subscription has expired or you did not include the maintenance subscription in your original purchase, simply refer to this newsletter to renew or add maintenance retroactively!