Black Ice Software - June 25, 2014
Printer Driver 14.07 is released!
New Debugging Option to speed up troubleshooting and improved Post Printing options when printing on Citrix!
Black Ice Software has released the Printer Driver version 14.07 with a new Debugging option to speed up troubleshooting, isolate printing problem, and isolate defective documents or inconsistent printing applications to provide a quicker technical support turnaround for customers.
The Debugging option generates DDF log files that contain the input source data of what the Black Ice Printer Driver receives from the operating system. DDF log files can be used to compare the printed document with the source input document to isolate and to determine the cause of the problem.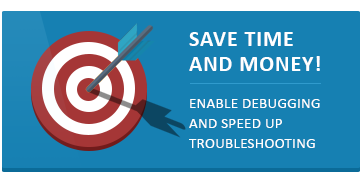 When contacting Black Ice Software in relation to a printing issue, it is highly recommended to attach a DDF log file of the print job where the issue occurs.
To Enable Debugging feature, go to the Control Panel > Printers and Devices > right click on the Black Ice Printer Driver > Printing Preferences > Filename Generation Tab > Troubleshooting… and check the Enable Debug Logging checkbox.
Once the Debug Logging Feature is enabled, all the user have to do is print to the Black Ice Printer Driver, and the DDF log file is generated into the specified directory. By sending the log to support, technical support turnaround time is significantly reduced.
Version 14.07 of the Black Ice Printer Drivers includes improvements for using post printing options when printing on Citrix, such as Upload to SharePoint, Send document in Email, Open OCR file with a text editor, and more.
The complete list of improvements in the latest Black Ice Printer Driver includes the following:
Added Enable Debug Logging Feature
Improved Post Printing options when printing on Citrix:

Open OCR with text editor
Upload to SharePoint
Send document in Email
Save As printed document
Start Application after printing
Open output folder after printing

Updated default directory handling when setting up the following log files:

Email Logging
SharePoint Logging
Redirect Printing Logging

Updated default directory handling when browsing:

Printed document's output directory
OCR default text editor
OCR text file's output directory
Profile Manager Save and Load directory
Barcode file input for printing barcode on a document
Start Application directory
Watermark Images
Free Upgrades and Priority Support
Don't forget to subscribe to future releases by purchasing maintenance. With an active maintenance subscription, you will receive all new releases of your software for free with your subscription! Also included with your Subscription is Priority email technical support. For more information call us at +1 (603) 882-7711 Extension 2, or sales@blackice.com.

As a special offer, if your Maintenance Subscription has expired or you did not include the Maintenance Subscription with your original purchase, simply mention this newsletter to renew or add Maintenance retroactively!