Faxproducts.com - June, 2010
20% Introductory Discount for Tiff Viewer Server!
That's right! We are happy to offer a special 20% off coupon for any purchase of the new Tiff Viewer Server! Download the evaluation today and use the coupon code below during checkout any time between now and June 30th to receive 20% off of the purchase!

Coupon Code: TVS0620
NEW! Fully Functioning Tiff Viewer Evaluations
Previously, Tiff Viewer was available in a limited free version, or purchased release version. Now one can test the full functionality of both the Server and Standard editions of Tiff Viewer for 15 days before purchasing! If the chance was missed to evaluate Tiff Viewer completely, try the new version with unrestricted use! After 15 days, the evaluation can be upgraded to the release version with a purchased license, or downgraded to the free version for continued but restricted use of the Tiff Viewer. Try it today!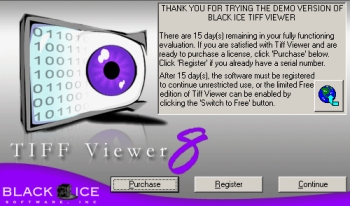 | Tiff Viewer | Tiff Viewer Server |
| --- | --- |
| | |
NEW! Tiff Viewer Server Edition
The Tiff Viewer is now available in a Server Edition for Terminal Server environments. Not only does the Server Edition offer compatibility for Windows Terminal Servers up to 2008 R2(32/64bit) AND Citrix, but also includes a License Manager for seamless registration and pricing to suite any need or environment!
Buy Now!
More Information/Evaluation
New User and Server Based Pricing
Tiff Viewer Server can be licensed by Users with a single Server license included, or by Server with Unlimited users!
User-Based Pricing
5 User License
$169.99
10 User License
$279.99
25 User License
$549.75
50 User License
$599.99
100 User License
$799.99
Unlimited Users
$999.99

Server-Based Pricing
2 Servers
$1,799.99
3 Servers
$2,549.97
4 Servers
$3,199.97
5 Servers
$3,749.96
6 Servers
$4,199.96
7 Servers
$4,549.95
8 Servers
$4,799.95
9 Servers
$4,949.95
10 Servers
$4,999.95
Free Upgrades and Priority Support
Don't forget to subscribe to future releases by purchasing maintenance. With an active maintenance subscription, you will receive all new releases of your software for free with your subscription! Also included with your Subscription is Priority email technical support. For more information call us at (603) 882-7711 Extension 3, or impactsales@blackice.com. As a special offer, if your Maintenance Subscription has expired or you did not include the Maintenance Subscription with your original purchase, simply mention this newsletter to renew or add Maintenance retroactively!
* FREE upgrade only available to current users of Print2RDP 4.91