Black Ice Software - June 16, 2016
Printer Driver version 14.67 is released!
Significant improvements for PDF font handling, and major stability improvements for Fax resolutions and more!
Black Ice Software has released version 14.67 of the Printer Driver. This version includes significant improvements for PDF font handling, resulting in much better searchable PDF printing from various applications.
Version 14.67 of the Printer Driver includes major stability improvements when printing landscape documents to PDF file format with Standard Fax and Fine Fax resolution.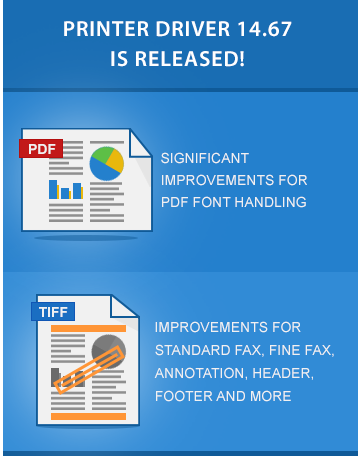 The Printer Driver includes new features to hide SharePoint, FTP and Email settings for restricted environments, and includes stability improvements for positioning the Watermark, Bates Numbering and Barcode on the printed TIFF document, and also includes improvements for displaying the Annotation, Header, Footer on the printed TIFF documents with Standard Fax (204x98 DPI) resolution.
The latest Printer Driver includes new options for showing notification message boxes when uploading documents to FTP, and also includes updated documentation.
The complete list of improvements in the latest Printer Driver include the following:
Stability improvement for printing landscape documents in 204x98 DPI from Notepad
Stability improvement for printing documents with varying page orientations
Added option to show FTP error messages or message box after successful FTP uploads
Added INI file options to hide FTP, SharePoint and Email options from the user interface
Updated PDF Dlls to version 2.7.4.650
PDF, Fixed missing characters when printing some documents that contain multiple fonts with the same name
PDF, Fixed strikeout font printing
PDF, Fix for documents that use certain bitmap fonts
Updated manuals
Free Upgrades and Priority Support
Do not forget to subscribe to future releases by purchasing maintenance. With an active maintenance subscription, you will receive all new releases for free! Priority email technical support is also included in your subscription. For more information call us at +1 (561) 757-4107 Extension 2, or email us at sales@blackice.com.

As a special offer, if your maintenance subscription has expired or you did not include the maintenance subscription in your original purchase, simply refer to this newsletter to renew or add maintenance retroactively!