Black Ice Software - June 9, 2016
Tiff Viewer version 11.48 is released!
New features to open documents in read-only if the document is already in use by another application!
Black Ice Software has released version 11.48 of the Tiff Viewer. This version includes new features to open documents in read-only mode, if the document is already opened in another application, for example in MODI (Microsoft Office Document Imaging).
The new feature could be very useful for network directories with shared documents and for environments where multiple users using the same documents simultaneously.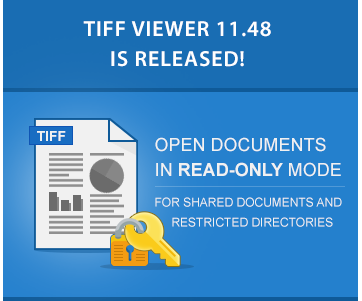 The latest release of TIFF Viewer version 11.48 also includes improvements to open documents from read-only directories, which is very useful in restricted environments, where users have limited permissions for accessing specific directories or documents.
Free Upgrades and Priority Support
Do not forget to subscribe to future releases by purchasing maintenance. With an active maintenance subscription, you will receive all new releases for free with your subscription! Priority email technical support is also included in your subscription. For more information, call us at +1 (561) 757-4107 Extension 2, or impactsales@blackice.com.

As a special offer, if your Maintenance Subscription has expired or you did not include the Maintenance Subscription in your original purchase, simply refer to this newsletter to renew or add Maintenance retroactively!