Black Ice Software - May 20, 2015
Tiff Viewer version 11.32 is released!
Printing silently from command line, Annotation improvements and Unicode Text file support!
Black Ice Software has released version 11.32 of the Tiff Viewer including new capabilities to print documents silently from a command line to insure compatibility with MODI. By using the command line printing feature, users can print documents and images with the Tiff Viewer more quickly and easily without manually starting the Tiff Viewer and opening the file.
The Tiff Viewer version 11.32 comes with improved Note and Text Annotations with optimized font display for a better appearance. The improved Note and Text annotation will always set the most recently used font type to let users create more consistent text annotations.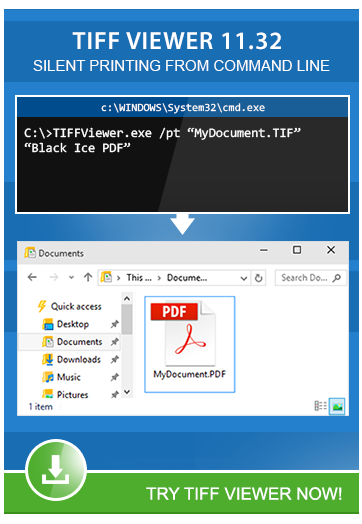 Version 11.32 of the TIFF Viewer includes support for Unicode text files to let users open text (*.TXT) files with eastern (For example: Chinese, Korean, Japanese, Russian) characters.
Tiff Viewer version 11.32 also includes improved printing for multipage images with different resolution (DPI) for each page, and minor enhancements in the annotation handling and appearances to improve the user's experience.
The complete list of improvements in the latest Tiff Viewer include the following:
Added command line printing feature
Added support for Unicode text files
Improved annotation mode handling for Metafile annotation when navigating between pages
Set default Clean Image percentage values to 60
Set default background color of Note annotation to yellow
Set default font of Text and Note annotations to Arial 12pt regular
Added improvements to save the last used annotation font for all users
Improved image DPI handling when printing
Stability improvement for annotation displaying after printing
Stability improvement for Opaque background for Note annotations
Updated Image DLLs to version 12.54.502
Free Upgrades and Priority Support
Do not forget to subscribe to future releases by purchasing maintenance. With an active maintenance subscription, you will receive all new releases for free with your subscription! Priority email technical support is also included in your subscription. For more information, call us at +1 (603) 882-7711 Extension 3, or impactsales@blackice.com.

As a special offer, if your Maintenance Subscription has expired or you did not include the Maintenance Subscription in your original purchase, simply refer to this newsletter to renew or add Maintenance retroactively!