Black Ice Software - May 12, 2016
Tiff Viewer version 11.47 is released!
New support for opening and saving PNG images, and stability improvements for OCR, Text Note, Text Annotation and View Modes!
Black Ice Software has released version 11.47 of the Tiff Viewer. This version includes new support to open and save PNG images in the TIFF Viewer and allows users to take advantage of the PNG image format; the most commonly used image format on the Internet.
The new PNG image format support is also included in the MSI installer to allow Administrators and System Integrators to associate the PNG images to open with the Black Ice TIFF Viewer by default.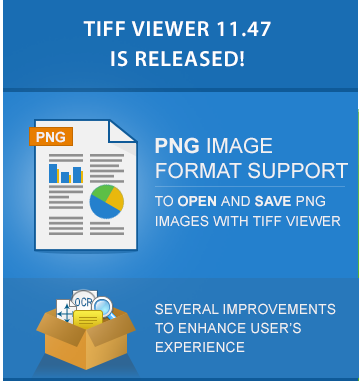 The latest released of TIFF Viewer version 11.47 also includes several improvements in the functionality in addition to improvements on the user interface to enhance user's experience.
The complete list of improvements in the latest TIFF Viewer include the following:
Added PNG image format
Improved Crop handling on images placed in read only folder
Improved OCR button handling on Ribbon
Improved mouse wheel handling for zooming
Improved view mode handling after cropping the image
Improved Text note and Text annotation handling when clicking outside of the annotation
Improved selection indicator drawing for Note annotation
Improved tab handling on the General tab of the Options dialog
Updated BiAnno.dll to version 12.56.537
Updated BiDIB.dll to version 12.56.538
Updated BiThumbnail.dll to version 12.56.539
Updated manuals
Updated MSI installation guide
Free Upgrades and Priority Support
Do not forget to subscribe to future releases by purchasing maintenance. With an active maintenance subscription, you will receive all new releases for free with your subscription! Priority email technical support is also included in your subscription. For more information, call us at +1 (561) 757-4107 Extension 2, or impactsales@blackice.com.

As a special offer, if your Maintenance Subscription has expired or you did not include the Maintenance Subscription in your original purchase, simply refer to this newsletter to renew or add Maintenance retroactively!