Black Ice Software - April 30, 2014
Printer Driver Opening New PDF Features!
New PDF Features for viewing PDFs after Printing!
Black Ice Software has released the Printer Driver version 13.99 with new PDF printing features to control how the printed PDF document will look when the user opens it in a PDF viewer.
The new Open PDF Settings in the latest release of Black Ice Printer Driver can configure the printed PDF document to the following:
Page Layout settings to display a Single Page or Two Pages on the screen at the same time.
Page View settings to display Thumbnails, Bookmarks or open the PDF document in Full Screen.
Open at Page feature to open the PDF document at a specific page number.
Magnification to scale the PDF to height or width, or to specify custom zoom percentage.
User Interface Options to hide menu bar, toolbar and windows controls on the PDF viewer.
Window Option to show the document title, fit window to initial page and center window on screen.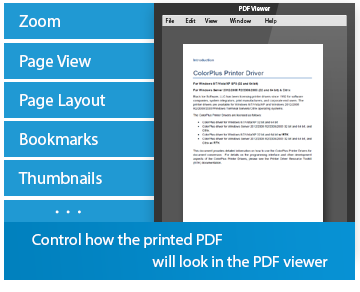 Version 13.99 of the Printer Drivers includes Updated Documentation with the new Open PDF features to enhance the user's experience.
The complete list of improvements in the latest Black Ice Printer Driver includes the following:
Added PDF Open settings to PDF and PDF/A file formats
Updated PDF Dlls to version 2.6.2.567
Updated manuals
Free Upgrades and Priority Support
Don't forget to subscribe to future releases by purchasing maintenance. With an active maintenance subscription, you will receive all new releases of your software for free with your subscription! Also included with your Subscription is Priority email technical support. For more information call us at +1 (603) 882-7711 Extension 2, or sales@blackice.com.

As a special offer, if your Maintenance Subscription has expired or you did not include the Maintenance Subscription with your original purchase, simply mention this newsletter to renew or add Maintenance retroactively!