Black Ice Software - April 24, 2014
Print From Windows Services!
New Auto-print API, Improved PDF Printing and improved Redirect printing!
Black Ice Software has released the OEM Printer Driver version 13.98 with the API/Resource Toolkit. The updated Auto-print API enable developers to print MS Office Documents from Windows services. The Auto-print API can be executed under Windows 2012/2008 R2/ 2008 services to convert MS Office documents and Image file format such as TIFF, JPEG, PNG, etc.
The Auto-print service can run under the "Administrator" account instead of under a particular user or System Account. This allows the Auto-print service to continue the document conversion even after the current user is logs off in unattended mode. The base requirement is for MS Office 2013, 2010, or 2007 to be installed on the server.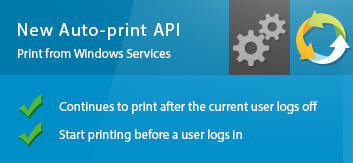 Added updated Auto-print API to be executed under a service
Version 13.98 of the Printer Drivers includes stability improvements for printing. Stability improvements for "Create Faxable Image" feature, improvements in the installation and uninstallation and improvements for PDF printing.
The complete list of improvements in the latest Black Ice Printer Driver includes the following:
Added updated Auto-print API to be execute under a service
Added fax format support to the AutoPrint samples
Improvements for forcing the DPI on printing application
Improvements in the Installation and Uninstallation
Stability improvement for printing
Improvements for PDF printing with rotated objects
Updated Documentation
Updated Free TiffViewer
Windows Service Printing Sample is available on request.
Windows service printing compatibility coming soon for IE, XPS, and PDF documents.
Free Upgrades and Priority Support
Don't forget to subscribe to future releases by purchasing maintenance. With an active maintenance subscription, you will receive all new releases of your software for free with your subscription! Also included with your Subscription is Priority email technical support. For more information call us at +1 (603) 882-7711 Extension 2, or sales@blackice.com.

As a special offer, if your Maintenance Subscription has expired or you did not include the Maintenance Subscription with your original purchase, simply mention this newsletter to renew or add Maintenance retroactively!