Black Ice Software - April 21, 2011
Extended paper list support
The Black Ice printer driver v13.20 now supports a total of 177 predefined paper sizes, including large format and label printer paper sizes. Variable paper size options have been removed, instead custom paper sizes can be easily added through the printing preferences or the INI file before installation.
List of Supported Paper Sizes: There are 176 paper sizes as well as a FAX specific paper size. The page sizes range from envelopes to large E size pages including A0 Engineering paper size.
Editable paper list
The paper size can only appear in the "Paper list" drop down menu if it is selected in the "Edit Paper List" dialog. The default paper size depends on the Windows Regional Settings. In USA, Canada, Mexico, Philippines, Chile the default paper size is Letter, for all other countries the default paper size is A4.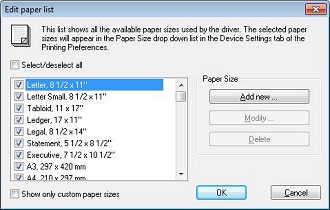 Special paper sizes for label printers
The following Avery label printer paper sizes are supported by default:
| | |
| --- | --- |
| Label printer | Paper size |
| Avery 9177 | 1/2 x 1 3/4" |
| Avery 9173 | 2 1/8 x 3 1/3" |
| Avery 9170 | 1 x 2 5/8" |
| Avery 4153 | 2 1/8 x 4" |
| Avery 4150, 4151 | 1 1/8 x 3 1/2" |
| Avery 9176 | 11/16 x 3 7/16" |
| Avery Dennison 4.4 | 100 x 75 mm |
| Avery Dennison 4.4 | 100 x 150 mm |
Custom paper sizes
Additionally, the Black Ice printer drivers allow unique paper sizes to be defined in pixels, mm or inches. The maximum paper size is 129 inches x 129 inches.

Printing Tips for Developers
Define custom paper sizes through the INI
Paper sizes are defined in the "Paper Size Definition" section of the INI file. For example the following INI file entries define the Japanese business card:
[Paper Size Definitions]
...
Paper175 Available=1
Paper175 Title=Japanese business card, 55 x 91 mm
Paper175 Width=550 Paper175 Height=910
Paper175 Units=MM
Paper175 WindowsPaperCode=335
Custom Paper sizes can be added through the INI file. The entries must be in the "paper size definition" section of the INI file.
When adding a custom paper size to the list, the "number of Paper sizes" entry must be increased accordingly.
[Paper Size Definitions]
Number of Paper Sizes=178
…
Paper178 Available=(1 or 0)
Paper178 Title=Name of the Custom Paper size
Paper178 Width=100
Paper178 Height=100
Paper178 Units=(MM or INCHES or PIXELS)
Paper178 WindowsPaperCode=336
Availabe=1 means the paper size will be available on the paper size dropdown menu on the device settings tab of the printing prefernces. Units can be MM, INCHES or PIXELS
When defining a custom paper size, its WindowsPaperCode must be set higher than the current highest WindowsPaperCode in the paper size list. Recommended value is above 335.