Black Ice Software - April 25, 2017
Version 14.87 of the Printer Driver is released!
Reduce downtime with stability improvements to the installation, DCCM, Printer Manager, Text Output, and more!
Black Ice Software has released version 14.87 of the Printer Driver. This version includes stability improvements for installing the Printer Driver on Windows 2008 64-bit and Windows 2003 64-bit operating systems.
The latest DCCM (Document Converter Configuration Manager) includes improvements when saving the enabled and disabled tabs to the Printer Driver INI file, as default settings. To Improve the user's experience we have also made interface improvements to the DCCM and Printer Manager.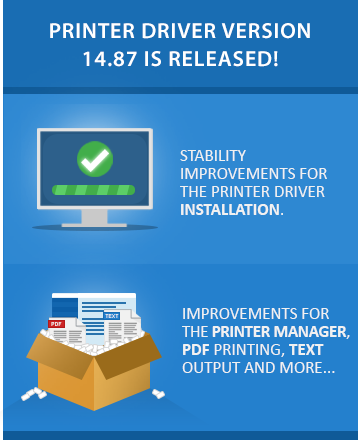 The Text Extraction feature has improved conversion capabilities to remove empty lines at the beginning of the printed document. Additionally, drawing on PDF documents has been improved as certain images were not appearing properly.
The complete list of improvements in the latest Printer Driver includes the following:
Stability improvement for Printer driver installer for Windows Server 2008 64-bit
Removed empty lines before pages in text output
Improvements for PDF printing where certain images appeared black
User interface improvement in the DCCM
User interface improvements in the Printer Manager
Stability improvement to the DCCM for saving Tab preferences in the printer driver configuration ini file
Stability improvement for using the Printer Driver with Microsoft Word with 204x196 DPI Fine Fax mode
Improved startup speed of the DCCM
Minor user interface improvements on the Save as dialog
Improved startup speed of the Printer Manager
Stability improvement for Printer Driver InstallShield MSI installers for using OCR parameter
Fixed upside down text in certain documents
Free Upgrades and Priority Support
Do not forget to subscribe to future releases by purchasing maintenance. With an active maintenance subscription, you will receive all new releases for free! Priority email technical support is also included in your subscription. For more information call us at +1 (561) 757-4107 Extension 2, or email us at sales@blackice.com.

As a special offer, if your maintenance subscription has expired or you did not include the maintenance subscription in your original purchase, simply refer to this newsletter to renew or add maintenance retroactively!