Black Ice Software - April 16, 2015
Tiff Viewer version 11.30 is released!
Multi-page change tracking, Improved Saving, Undo and Insert Page(s) features and multi-page support for Flip, Rotate, Color Mode, Document Cleanup operations!
Black Ice Software has released version 11.30 of the Tiff Viewer including new multi-page change tracking, resulting in major improvements in the Saving, Undo, Insert Page(s), Flip, Rotate, Color Mode and Document Cleanup features!
Version 11.30 of the TIFF Viewer Server allows users to navigate between modified pages of a multi-page document without saving the file, resulting in a more smooth and user friendly usage. The latest release of Tiff Viewer also includes improved Undo features allowing users to undo 16 operations including Multiple page deletion, insertion and page moves.
To read more about Tiff Viewer, please click here.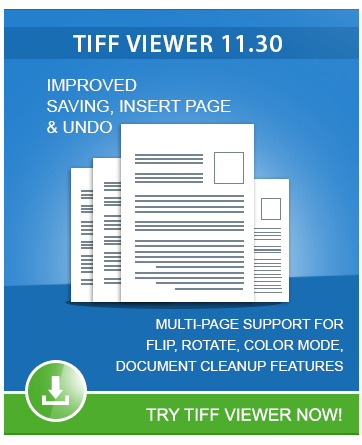 The Tiff Viewer version 11.30 includes enhanced multi-page support to allow users to Rotate, Delete, Color Convert and Cleanup multiple pages in one step. Besides the improvements, the Tiff Viewer includes several user interface changes and updated documentation to enhance user's experience
The complete list of improvements in the latest Tiff Viewer include the following:
Enabled navigation between modified pages without asking to save the document
Enabled performing the following operations on multiple pages: Flip horizontal, Flip vertical, Invert, Merge text with image, Convert to color, Convert to Grayscale, Convert to Mono, Change resolution, Clean image slow, Clean image fast, Deskew image, Remove black border, Line removal, OCR image
Enabled Insert Page(s) for PDF documents
Added all supported file format for inserting
Improved user interface in Insert Page(s), Cut file and Split file dialogs
Added Line removal for documents with asymmetric DPI
Added Punch hole removal for documents with asymmetric DPI
Removed obsolete CCITT Raw file formats support
Removed obsolete Append file and Merge file features
Removed obsolete Annotation save checking mode option
Removed file association with raw file format from MSI installer
Removed Annotation_save_checking_mode options from MSI installer
Updated manuals
Updated MSI installation guide
Free Upgrades and Priority Support
Do not forget to subscribe to future releases by purchasing maintenance. With an active maintenance subscription, you will receive all new releases for free with your subscription! Priority email technical support is also included in your subscription. For more information, call us at +1 (603) 882-7711 Extension 3, or impactsales@blackice.com.

As a special offer, if your Maintenance Subscription has expired or you did not include the Maintenance Subscription in your original purchase, simply refer to this newsletter to renew or add Maintenance retroactively!