Black Ice Software - April 9, 2015
Printer Driver Internationalization!
Black Ice Software has started to translate the Black Ice Printer Driver into the most popular languages, to let users use the Printer Driver in their native language and to enhance the user's experience.
Translating can be a long procedure, and in order to speed up the translation, Black Ice Software provides the possibility to every user to help us translate the Black Ice Printer Drivers to their native language very quickly and easily.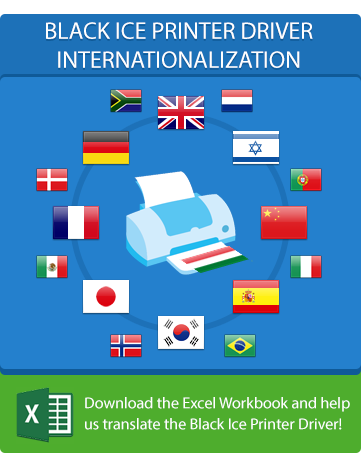 To help us translate the Black Ice Printer Driver, simply perform the following steps:
Download the Excel Workbook from the link above
Locate the column of the language you would like to translate or add a new column
Translate the text
Send back the updated Excel Workbook to sales@blackice.com please indicate in the email about what was translated
Free Upgrades and Priority Support
Do not forget to subscribe to future releases by purchasing maintenance. With an active maintenance subscription, you will receive all new releases for free! Priority email technical support is also included in your subscription. For more information call us at +1 (603) 882-7711 Extension 2, or sales@blackice.com.

As a special offer, if your maintenance subscription has expired or you did not include the maintenance subscription in your original purchase, simply refer to this newsletter to renew or add maintenance retroactively!